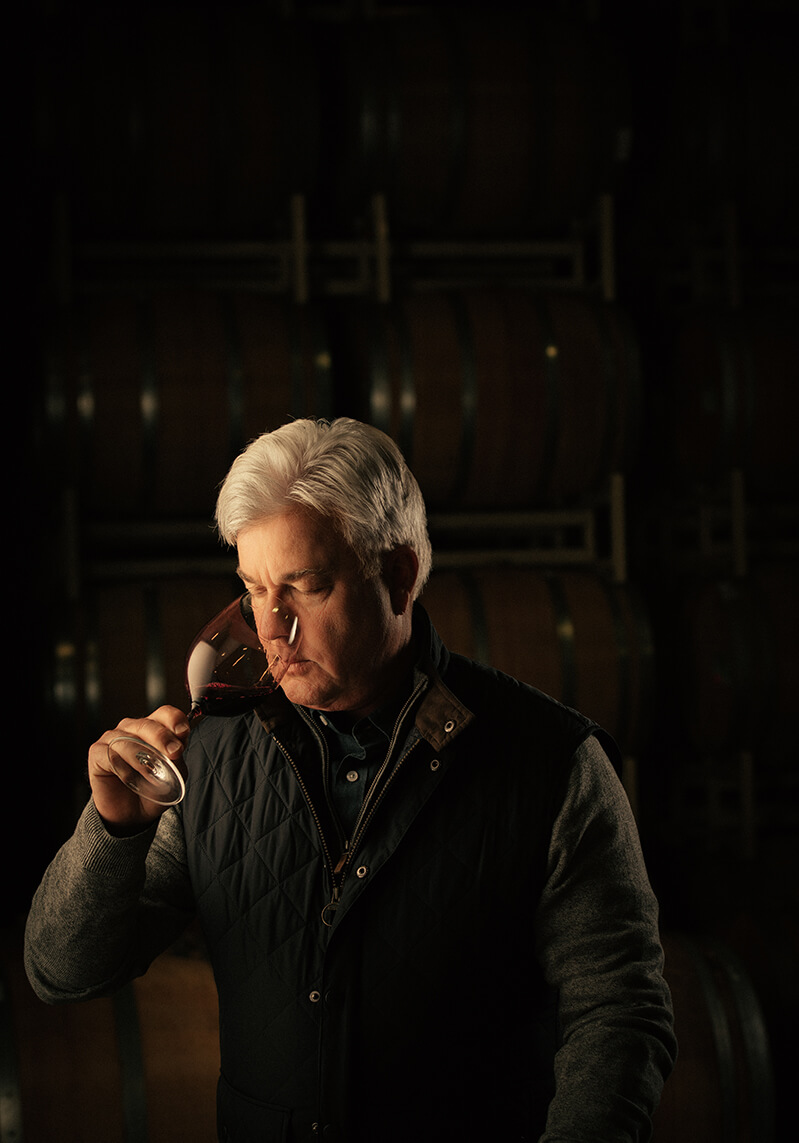 Ted Edwards is one of the longest tenured winemakers in Napa Valley. Now, after 40 years as director of winemaking at Freemark Abbey, 2020 brings a change to his role at the St. Helena winery as he assumes a new title: Winemaker Emeritus.
It's an appropriate title for one of Napa Valley's most respected vintners.
Going forward, Ted is charged with ensuring the Freemark Abbey wines retain the continuity of style and quality for which they're celebrated. He and his predecessors built the winery's own reputation on consistently great single-vineyard Cabernet Sauvignons and other Napa Valley wines. Starting this year, Ted will continue his involvement in all aspects of winemaking and vineyard practices. The wealth of knowledge and experience he will impart to new Winemaker Kristy Melton will, no doubt, help carry on the Freemark legacy.
Ted's creative approach, unyielding dedication to quality, and many years of experience in the vineyards of Napa Valley—particularly the Rutherford bench—are intrinsic to Freemark Abbey's reputation as leading Napa Valley estate. His innovative winemaking ideas have defined the estate's entire line of coveted wines and solidified his place in the winery's rich history.
Freemark Abbey's contemporary history encompasses Ted's establishment of the iconic, single-vineyard Sycamore Vineyard Cabernet Sauvignon and his continuing the thirty-plus-year legacy of the vineyard-designated Cabernet Bosché. The heights of critical acclaim each of these wines has achieved under his direction has been nothing short of extraordinary. 
Ted began his winemaking career in the cellar of Freemark Abbey back in 1980, then was named winemaker by the seven founding partners in 1985. In 1992, the partners named him the eighth partner. When managing partner Chuck Carpy passed away in 1996, Ted took over his former boss and dear friend's duties as managing partner while continuing as director of winemaking. He remained at the helm of Freemark Abbey in this role upon Jackson Family Wines' purchase of the estate in 2006. Over his remarkable wine career, Ted has built a reputation for making some of Napa Valley's best wines and cementing Freemark Abbey as a world-class winery.
Born in New Mexico, Ted was raised on an apple farm in Colorado before moving to the Russian River region in Sonoma County. He has called Napa Valley home for more than 30 years, raising three children among the natural splendors of California wine country. As a prominent member of the Napa Valley winegrowing community, Ted participates in the Napa Valley Vintners and is a long-time member of the American Society of Enology and Viticulture. He was formerly president of the Napa Valley Wine Technical Group and a board member of the Rutherford Dust Society. He earned a Bachelor's degree in Biochemistry and Master's in Food, Science, and Engineering from the University of California at Davis.