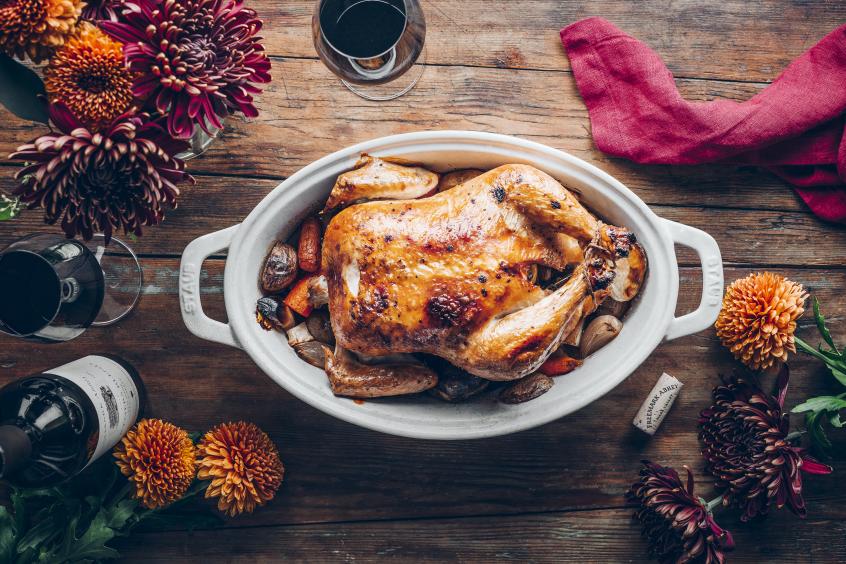 Rosemary Roast Chicken Recipe
We recently re-introduced our Partner's Blend and want to commmemorate the occassion with a recipe that is equal-parts perfect pairing and delectable classic meal. So when we came across this Rosemary Roast Chicken recipe - succulent, whole chicken slow-roasted to perfection and seasoned with butter, thyme, fresh pepper, and rosemary - we knew we'd found the right balance. 
The first thing you'll notice about the Partner's Blend is the complexity and richness that the bordeaux varieties lend. The Partner's Blend smooth entry, structured tannin, dark berry fruit, and lingering finish envelope the savory, buttery, salty, umami-laden Rosemary Roast Chicken. 
The simplicity of the recipe and the complexity of the wine converge to create a truly satisfying culinary experience.
Ingredients
1 3.5-4lb chicken
3 tbs unsalted butter, melted 
1 tbs kosher salt, plus a bit extra
1 ½ tsp freshly cracked pepper, plus a bit extra
3 sprigs rosemary
5 sprigs thyme
1 head garlic, halved through equator
1 lemon, scrubbed clean, and quartered
3 shallots, peeled and halved lengthwise
1 lb baby potatoes, cut in half or quartered 
8 oz celeriac, peeled and diced
4 medium carrots, cut into 2 inch pieces 
Olive oil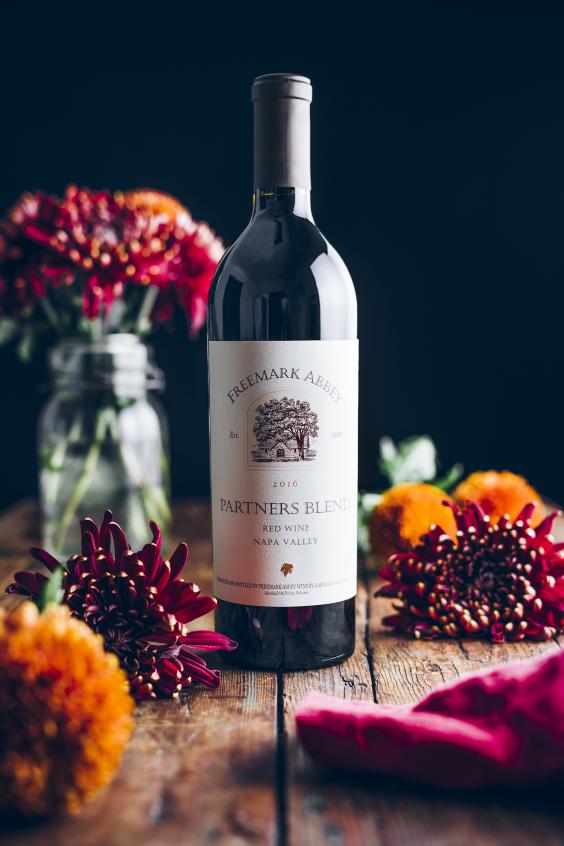 Directions
Heat oven to 450°F and arrange a rack in the middle.
 
Remove giblets, then rinse chicken and pat dry. Transfer to a paper towel lined tray and let come up to room temperature, about 45 minutes.
 
Brush the entire chicken with melted butter. Season the chicken and the cavity with salt and pepper, then stuff with rosemary, thyme, garlic, lemon, and one shallot. Tie the legs together with kitchen twine then tuck the wing tips under the chicken's body.
 
Toss the potatoes, celeriac, carrots, and the two remaining shallots with a bit of olive oil, salt, and pepper in a large roasting pan. Place chicken on the vegetables.
 
Place the chicken in the oven and roast for one hour to an hour and 20 minutes or until the chicken's thigh reaches an internal temperature of 165°F and its juices run clear.
 
Remove the chicken from the oven and cover with foil. Let it rest for about 15 to 20 minutes before carving. Slice chicken and serve with roasted vegetables on a platter.