Celebrating Ted Edwards
Winemaker Kristy Melton Interviews Ted Edwards on his 40-Year Career & his New Role as our Winemaker Emeritus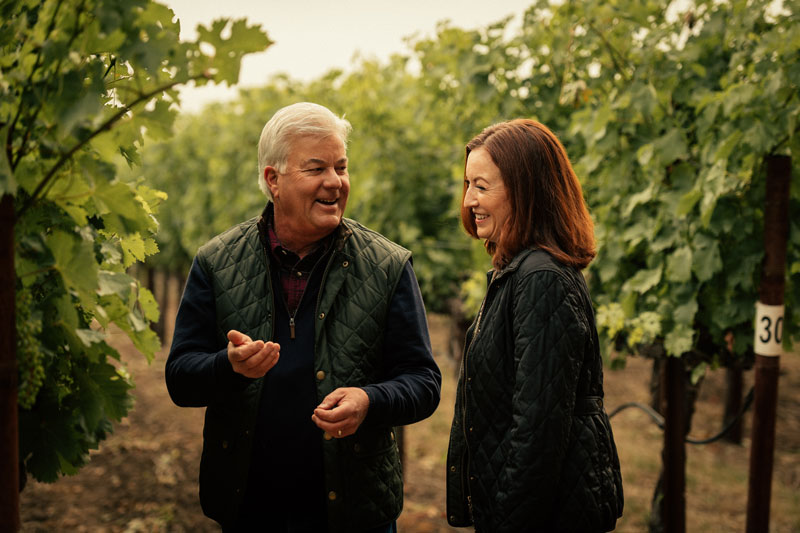 This is your 40th year with Freemark Abbey! Tell us about your history with the winery?
I began my work with Freemark Abbey in March of 1980. I was 25 years old and little did I know that working at this small winery would ultimately be my life career. I wanted to focus on Cabernet Sauvignon so Freemark Abbey and I were the perfect fit. I began as the Assistant Winemaker until, in 1985, the ownership of Freemark offered me the job of Winemaker. During the 80's-early 90's, we were aggressively replanting due to the parasitic root louse Phylloxera, replacing our White Riesling, Chardonnay and Pinot Noir vines in Rutherford with Cabernet Sauvignon.
In 1992, I was invited to join the partnership which cemented our relationship as we continued to build Freemark Abbey's reputation for Rutherford Cabernets. In 1996, I was appointed the managing general partner while retaining my new role as director or winemaking. Ultimately, the families of the original partnership of 1967 decided to sell. In 2006, the Jackson Family purchased Freemark Abbey.
Under Jess Jackson's direction, new small tanks were purchased for Freemark. Tank rich, we had a much greater opportunity to work with the fermentation. The family's partnership with World Cooperage also allowed us to use as much French oak as we needed. The best part, we had an abundance of Jackson Family vineyards to source fantastic fruit from all over the Napa Valley.
Why did you decide to get into winemaking?
Growing up in Sebastopol and Forestville, CA, I used to tag along with my folks as they visited wineries—I loved the smell of the cellars. I was also a science guy, a biologist, which lead me to UC Davis where I got a degree in biochemistry. I soon discovered my background would lend itself well to winemaking, plus I loved wine! 
What is your favorite part of winemaking?
Without a doubt: Harvest! This is where the growing season all comes together. I love walking the vineyards, deciding what to pick, dancing with Mother Nature, bringing it in at the peak of ripeness. I love the smells of the winery, the fermentations, and creating the new wines.
What is the title of your new role and what does it mean?
Me new title is Winemaker Emeritus. It gives me status for my years of experience and defines an opportunity to be a resource for the larger Freemark Abbey team.
Why did you decide to take on a new role?
I still enjoy the vocation of winegrowing. While I didn't want to retire, I wanted to step back from the daily winemaking and promote you, Kristy, to take on that responsibility. It has been an absolute joy working with you. I think we both have a mutual respect, as well as a friendship, which enhances our working relationship.
What is the most important part of Freemark's legacy you want me to carry on & what is your vision for the winery's future?
It is continuing quality, year in and year out. We will always have changes in our vintages, but it is important for Freemark to produce the quality of wines that our consumers have come to enjoy.
You have a keen sense of taste, and talent for blending to achieve an amazing balance of flavor from start to finish. It is an understatement to say that you have a tremendous winemaker work ethic.
The winery has a long history and sound foundation and I look forward to you using your talents to enhance the quality of Freemark Abbey wines. I think it is something you can build on that will expand your career, fulfillment, and firmly establish Freemark Abbey a world class winery.