Ted Edwards, Wine Librarian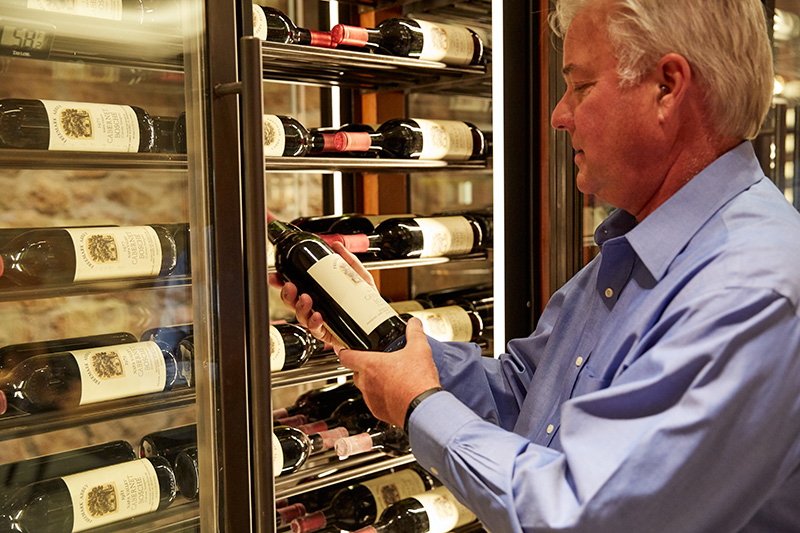 Library Winemaking Decisions
For a winemaker, whether novice or expert, the job is all about careful decisions and building an impressive wine library may very well be least among them.
Questions like: When to pick the grapes? Which yeast to make the best wine? This oak barrel or that one? How many vines to replant in April or May? How best to manage the leaf canopy over the summer? Beyond the fall harvest and crush, decision-making is a seasonal line of inquiry that determines the quality of the wine in the bottle.
And then there are the more exclusive winemaker decisions that sometimes cross the desk of Ted Edwards, Winemaker Emeritus at Freemark Abbey, such as: which wine library vintage of Cabernet Bosché to serve at a fancy New York dinner in October? As steward of the historic St. Helena winery's legacy, the veteran vintner is tasked with all of the tough calls.
Building One of the Largest Wine Libraries in America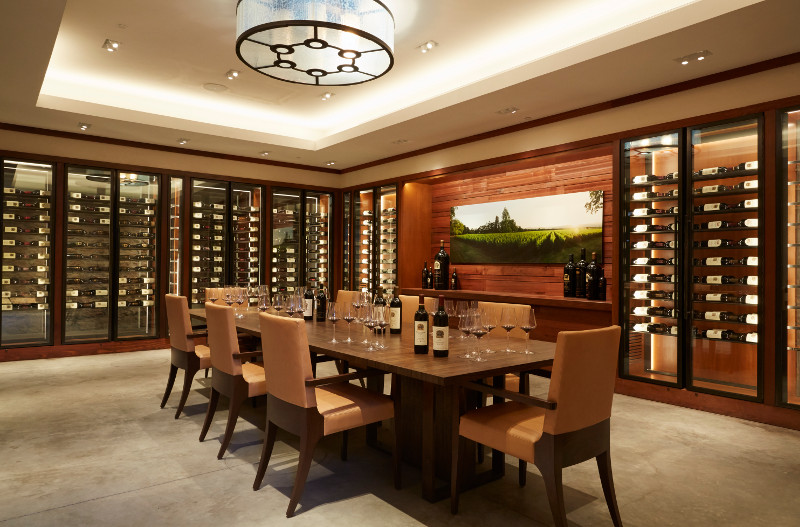 During a recent lull in the midst of the 2017 harvest, a pause he referred to as "the eye of the storm," Ted sat down at the magnificent wooden table that is the centerpiece of the Bosché Room to weigh his options for some thirsty folks in Manhattan. With nearly a half-century of vintages represented in Freemark Abbey's collection of library wines, the options were many.
"It's interesting," he remarked. "There are all of these wines encased around the walls of the wine library, and when I go in there and look around, I realize that I made most of them. So I guess I could say that I've made a significant contribution to the legacy of the Freemark wine library."
Then he smiled, noting that he can definitely comment on most all of the winery's vintages. "In a sense, maybe that makes me a wine librarian."
Involved with Freemark Abbey since the 1980 harvest and named its head winemaker in 1985, Ted has enjoyed a stellar career at one of Napa Valley's most storied properties. In addition to steering the winemaking ship all of this time, he gets to monitor his (and his predecessors') wines' development in the bottle. "Every so often we go through and pull open a bottle of everything," he said. "We like to see how it's holding up, what its qualities are and characteristics and such. So I have notes on all of these vintages."
Ted's tasting notes and informed thoughts on this treasure trove of wine—the Cabernet Bosché and Sycamore Vineyard Cabernet Sauvignon bottlings from Rutherford, in particular—are a page out of contemporary Napa Valley history for any curious customer, from experienced collector to fine wine novice. But one of America's oldest and largest collections of library wine didn't start out as a retail amenity.
A Wine Library 60 Years in the Making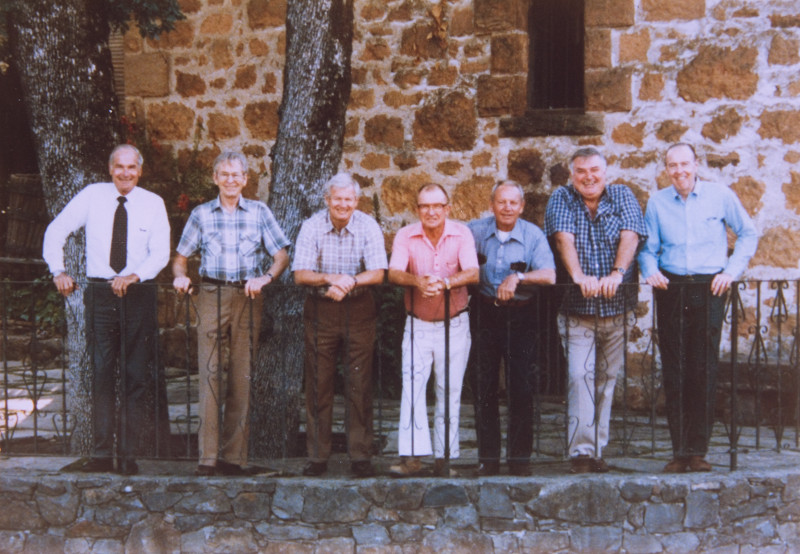 He explained that Chuck Carpy and his 1960s-era Freemark Abbey partners had an early focus on aging their wines in the winery's stone cellar to service restaurants in Northern California and around the country. Many establishments lacked the space or resources to build their own collections. "This is something that the partners started, and it's a reason why today we have such an extraordinary library, significantly larger than those of other wineries. I think that most wineries weren't doing that, and that's what makes Freemark unique."
Today, Freemark Abbey Josephine Cellar Club members can take advantage of a library wine program that started at a time when Napa Valley was just a blip on the world's wine radar, well before the momentous Judgement of Paris tasting in 1976. Ted pointed out with pride that the library extends all the way back to the 1967 vintage—and includes the legendary '69 Freemark Cabernet Sauvignon that beat out many famous Bordeaux châteaux in Paris.
Finding that Perfect Birth Year or Anniversary Year Wine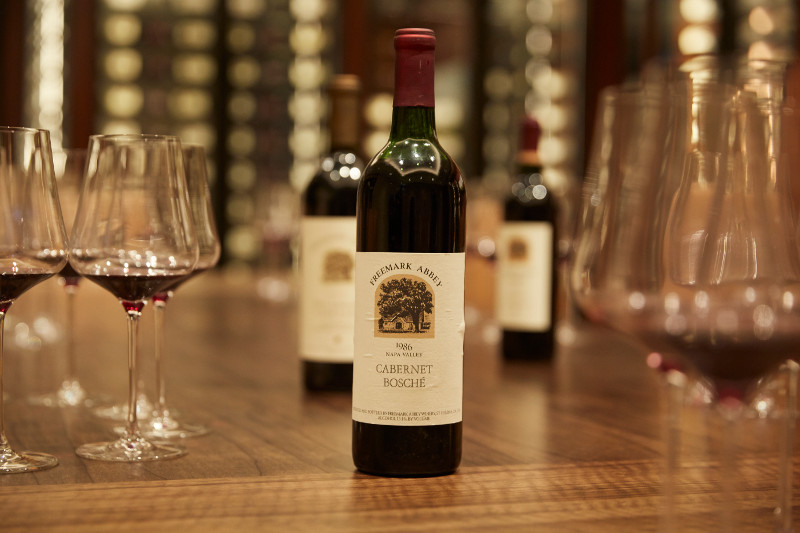 "Let's say somebody was born in 1982. They can ring up the winery, and we can most likely supply them a bottle from their birth year, or for a marriage or anniversary celebration, or whatever the occasion. So it's really become a benefit to the consumer that goes beyond the original restaurant purpose."While select vintages from the Freemark wine library are available to consumers during a seated library tasting, Ted noted that the Josephine's Cellar Club offers a more complete look at the winery's legacy collection.
While select vintages from the Freemark wine library are available to consumers during a seated library wine tasting, Ted noted that the Josephine's Cellar Club offers a more complete look at the winery's legacy collection. Named for the 19th century founder of the property, Josephine Tychson, the club provides access to the Freemark Abbey library cellar and a host of other exclusive amenities created by the hospitality team. But the opportunity to experience a three- or four-decades old Cabernet Sauvignon at the historic stone winery where it was made is what really sets Josephine's apart from other winery clubs.
What to Expect from Older Library Wines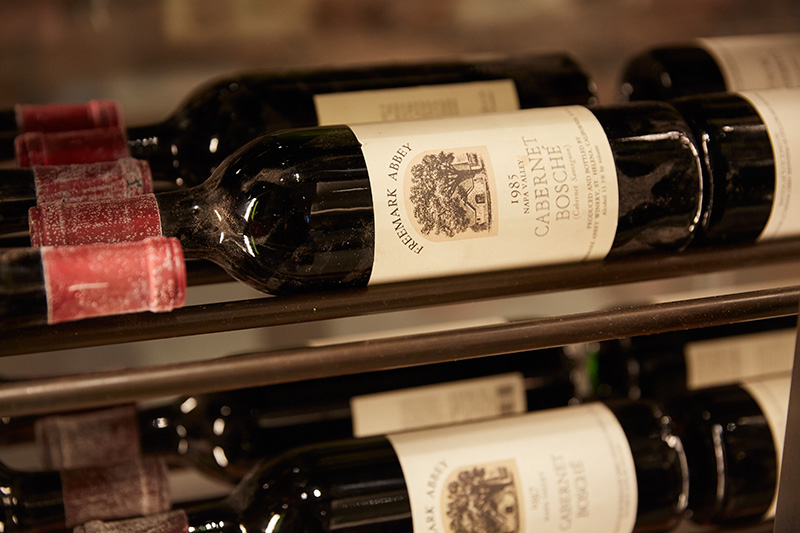 Over his many years at Freemark, Ted has watched the library wines evolve in the bottle for the first decade or so before they reach what he calls a "plateau." After that, the changes are less substantial. "Initially, it's a blockbuster of fruit, and then that fruit kind of dissipates with age, and it gets other nuances. I mean, there's still some fruit there but that certainly changes when the wine gets to 15 or 20 years old."
He pointed to the 2002 Cabernet Bosché he had uncorked an hour or so earlier, his leading contender vintage for the upcoming event in Manhattan (he also opened and considered the big, structured 2005 Bosché). Swirling the 15 year-old library wine in his glass, he commented that "there's an aged character—it's got some leather with a little baked cherry pie."
He glanced down at his tasting notebook. "To me, this is opening up. The color is dark ruby; it's not brackish hues, it's still dark. I get dark cherry-raspberry, aromatic cedar, clove, and walnut meat. It's like cracking open a walnut, when you smell it."
"I thought it was very full, promising in the nose. In the flavor, I get more cherries. I get a little bit more of the aged quality in the flavor." Ted took another thoughtful winemaker's sip. "I mean, it's pretty crisp. Good acidity. Kind of a cherry, or cherry-plum. The tannins are fairly resolved. I think it's a go!" he exclaimed.
"I have to say I'm really pleased with the way it's tasting now. To me, our wine kind of gets up on a plateau and it stays there for a long time, and then it doesn't go down really fast. It doesn't just drop off of a cliff. I'm going to say another 15 years for this '02."
Only having to wait another few weeks, those New Yorkers don't know how lucky they are.