Balsamic Braised Short Ribs
Balsamic Braised Short Ribs paired with Sycamore Vineyard Cabernet Sauvignon

The release of our 2015 Sycamore Cabernet Sauvignon marks one of the biggest events of our wine year. With Freemark Abbey's single-vineyard Cabernet Sauvignon dating back a generation, it's hard to find any release that reaches the same pitch of anticipation and enthusiasm - for our winemaking team or our members. If you've just received your shipment of the Sycamore and you're looking for the perfect recipe to pair with that first sip , we have a suggestion. This Balsamic Short Ribs recipe has been years in the making, but it wasn't until we tried it with our 2015 Sycamore Cabernet that we knew it was time to share it.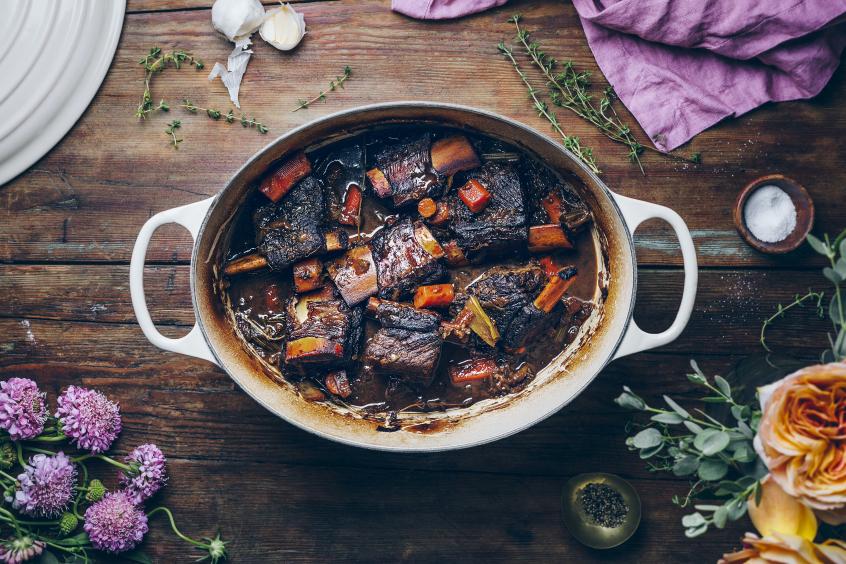 Sycamore's dark cherry and blackberry counterpoint the dish's earthier elements. Delicate spices of sweet onions, pepper, and garlic in the dish fuse seamlessly with vanilla, cinnamon, and clove in the wine. Lastly, the balsamic vinegar adds just a hint of sweetness to the Cabernet's balanced acidity. 
The Cabernet and the short ribs both provide a very intense set of flavors, and they all work together from beginning to end.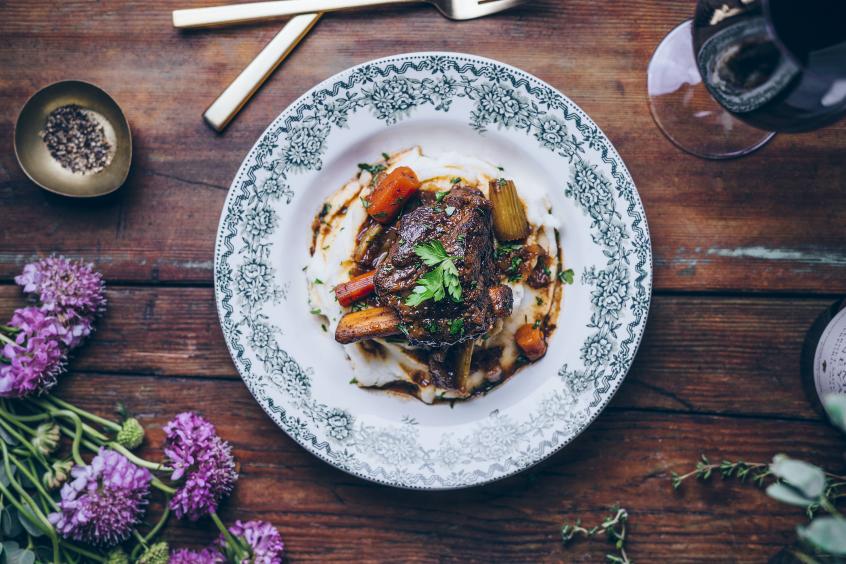 Balsamic Braised Short Ribs
Serves 4
Ingredients
3 lbs bone-in beef short ribs
kosher salt
freshly cracked pepper
2 tbs grapeseed oil 
1 ½ sweet onions, sliced
2 stalks celery, large-diced
3 carrots, large-diced
5 cloves of garlic, minced
½ cup +2 tbs balsamic vinegar
2 ½ cups beef broth
2 tbs brown sugar
1 ½ tsp worcester sauce
4 sprigs thyme
2 bay leaves
2-2 ½ cups mashed potatoes, for serving
chopped parsley, for garnish
Instructions
Arrange rack to lower third of the oven and heat to 350°F. 
 
Dab the short ribs with a paper towel to dry, and season each piece on all sides liberally with salt and pepper.  
 
Add two tablespoons of oil to a 5-6 qt dutch oven or oven-safe pot set over medium high heat. Once the oil is hot, begin browning the short ribs on each side working in batches of 3-4. Set aside on a large plate.
 
Reduce the heat to medium-low. Add the onion, celery, and carrots, along with a pinch or two of salt. Cook the veggies, stirring occasionally, until they soften, about 12-15 minutes. Add garlic and cook for an additional minute. 
 
Add the vinegar, beef broth, sugar, and worcester sauce, and stir to combine. Increase the heat slightly and bring to a simmer.
 
Once simmering, add the thyme and bay leaves and place the short ribs back to the pot and rotate with tongs to cover all sides with the sauce.
 
Place the lid on the pot and into the oven. Cook for 2½-3 hours, or until the meat is very tender and the liquid has reduced. Turn the ribs halfway through the cooking time.
 
Divide the warm mashed potatoes into shallow bowls. Top with one or two short ribs, and spoon the sauce and veggies over the top. Garnish with a bit of parsley if desired, and enjoy!