Filet Mignon with Shallot-Thyme Sauce

Filet Mignon Recipe
Freemark Abbey's Restoration Red is a perfect companion to this filet mignon recipe. The earthy herbality of the pan sauce's thyme combines well with the wine's notes of forest floor and cedar, while the sweet onion garlic profile of the shallots match the wine's oaky, peppery bite of spice. The buttery richness of the perfectly-cooked filet is contrasted with and enhanced by Restoration's intense dark cherry and plum notes. The experience from beginning to end is at once both intricate and impressive. Try it for yourself.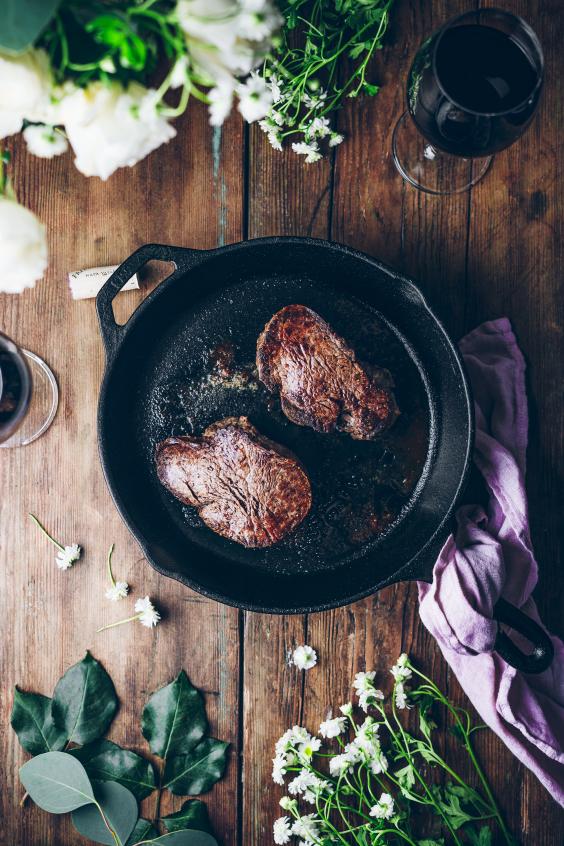 Ingredients
2, 6-8 oz Filet Mignon Steaks, about 2-inches thick 
kosher salt
freshly cracked pepper
1 tbs vegetable oil
1 ½ tbs finely chopped shallot
¼ cup dry white wine
¾ cup low sodium beef stock
1 tsp dijon mustard
1 tsp freshly chopped thyme
¼ cup heavy cream
wedge of lemon
4-6 oz steamed broccoli rabe, for serving
Directions
1. Remove the filet mignon from the refrigerator and pat dry with a paper towel. Set the fillets on kitchen countertop and let them come up to room temperature, about 30 minutes or so. 
2. Once the fillets are close to room temperature, heat oven to 425°F.
3. Season each fillet generously on all sides with kosher salt and freshly cracked pepper.
4. Set a 10-inch, oven-proof skillet over medium high heat. Add the oil and let the pan get very hot, but not so hot that it begins to smoke.
5. Add both fillets to the pan and let cook undisturbed for 4-5 minutes. Use a pair of tongs to flip the fillets and then immediately transfer the pan to the oven. 
6. Let the fillets continue to cook in the oven for about 5 minutes before checking their temperature with a meat thermometer. Remove the fillets when desired internal temperature is achieved. 120°F for rare, 130°F for medium rare, and 135°F for medium.
7. Carefully remove the pan from the oven and set back on top of the stove. Immediately transfer the fillets to a plate and tent with foil. The fillets must rest for at least 8-10 minutes before cutting into them.
8. Meanwhile, prepare the pan sauce. Set the pan that just cooked the fillets over medium-high heat. 
9. Add the shallots and cook for 30 seconds. Add the white wine and cook down until only a tablespoon of liquid remains.
 
10. Add the beef stock and let the liquid cook down until about ⅔ remains.
11. Whisk in the mustard and thyme until combined, then add the cream. Let everything simmer for about 3 minutes, or until the sauce slightly thickens. Add a squeeze of lemon and a crack or two of pepper and taste the sauce, adding additional salt and pepper as needed.
12. Divide the fillets and the broccoli rabe between two plates, and top each fillet with a drizzle of sauce. Enjoy immediately.