Napa Cabernet and the Rutherford Dust
When it comes to wine made in California, the differences from region to region are hard to miss. There's the salinity that seasons the Sonoma Coast, the volcanic, red earthiness pushing up in the Sierra Foothills, and the raspberry and briar running through Dry Creek. But California's best-known terroir is found, perhaps unsurprisingly, near the center of Napa Valley: in the Rutherford dust.
This famous AVA's unusual descriptor for its terroir was part of the California wine vocabulary before the French term arrived on the West Coast. If more winegrowing regions substituted a single word, the way Rutherford has, for the characteristics that make each place unique, the resulting list would be long and colorful. As it is, the "dust" of Rutherford is one of Napa Valley's most succinct terms, evoking in four simple letters a specific place and a complex set of flavors.
"Rutherford dust…" began Winemaker Emeritus Ted Edwards, in a recent email, taking a short break from the busy 2018 harvest, "to me, has a nuance of forest floor."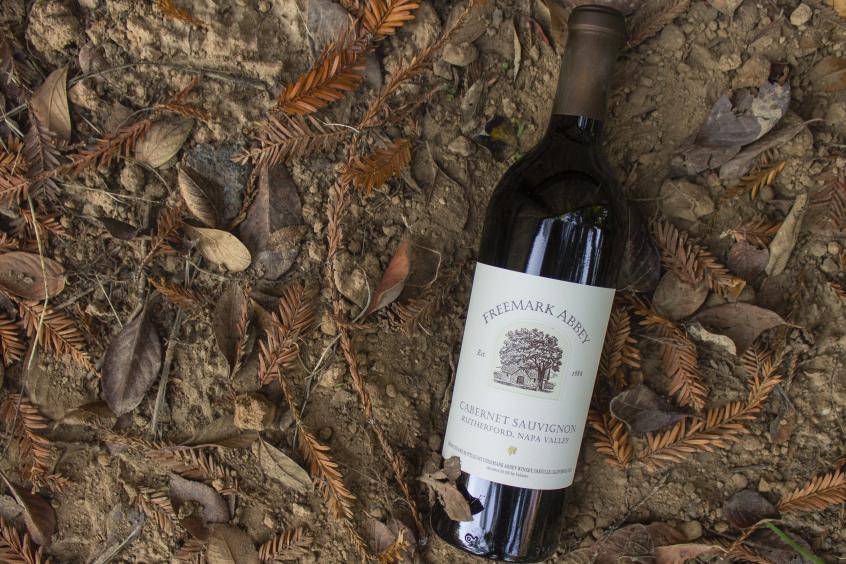 As a winemaker with dozens of Rutherford vintages under his belt, Ted was asked to share his thoughts on the AVA's signature characteristic. Freemark's veteran winemaking director is as familiar with the vineyards and fruit of Rutherford as anyone in his business, particularly vis-à-vis the longtime Cabernet Sauvignon bottlings from the Bosché and Sycamore Vineyards.
"I spent most of my career walking Rutherford vineyards," he wrote. "Imagine going for a walk in the foothills of the Mayacamas, and as you walk down the path, you are crunching over dead leaves and branches, kicking up dust. It's a combination of forest floor aromatics."
He didn't need to, but Ted added another "…to me" at the end of this last description. Despite the subjective nature of his Robert Frost-like observation, there's no doubt that, like the great poet, he has legged it through the trees and over the land many times. The impressions he's gathered have influenced his work.
It shows on the back label notes of Freemark's 2014 Rutherford Cabernet Sauvignon, the winery's current release, where Ted describes "a convergence of flavors, crafted to express the unique terroir of the land." This AVA bottling is his vehicle to convey Rutherford in all its dusty glory.
"It's more of a hand print of Rutherford," he continued in the email, "where Bosché is a specific property on the Rutherford alluvial fan with very approachable dark cherry notes. By contrast, Sycamore usually has more tannin structure, and more blackcurrant and forest floor notes. It's great to have a wine where these flavors can be married to represent Rutherford."
With a small but significant production of Rutherford Cabernet, Freemark Abbey is one of nearly three dozen Napa Valley wineries that are members of the Rutherford Dust Society. Founded in 1994, just a year after the AVA was approved, the Society is built upon an even longer tradition of winemaking and viticulture in the center of Napa Valley that traces back to the 19th century. From its inception, the group's dual mission has been to advance the uniformly high quality of Rutherford AVA wines—Cabernet Sauvignon, in particular—to consumers and the trade and to give back to the Rutherford community through a variety of fundraising programs.
"We've got a really good board membership, and we keep adding wineries to our membership," noted the current Rutherford Dust Society President and veteran grapegrower, Davie Piña. "We're trying to keep the attention to Rutherford's wines and its grapes as high as we can."
Driving up the Silverado Trail during the height of harvest, the busy vineyard manager was still happy to discuss his role in the organization and the Rutherford AVA's place in the big picture of Napa Valley wine. Currently on his second go-around as the Society's president, Piña pointed out that Napa Valley's appellations boast unique attributes, especially when it comes to soil and climate. "I think Rutherford shines in the fruit-forward, really ripe fruit characteristics. It's never too hot, never too cold. It's really a nice environment to grow grapes."
There is some pretty intense competition for consumer attention these days amongst the Valley's numerous AVAs. Piña highlighted the RDS's main consumer-facing event, "Day in the Dust," which takes place every July. "We pour all the different wines," he explained. "It's mainly Cabernets from Rutherford, but we also have Sauvignon Blancs and other varieties in the Grand Tasting. It's to have people understand where Rutherford is, how the soil impacts all of the wines, and how the wineries of Rutherford are similar and how they're different, those kind of things."
Piña is a Napa native who has managed vineyards in every Napa Valley appellation over the course of his career. Circling back to the Society's original mission, he was diplomatic. "In my mind, we're not in competition with places like Yountville or Howell Mountain. We're just trying to explain how we grow grapes differently, and how we make wine different. We're trying to bring attention to Rutherford."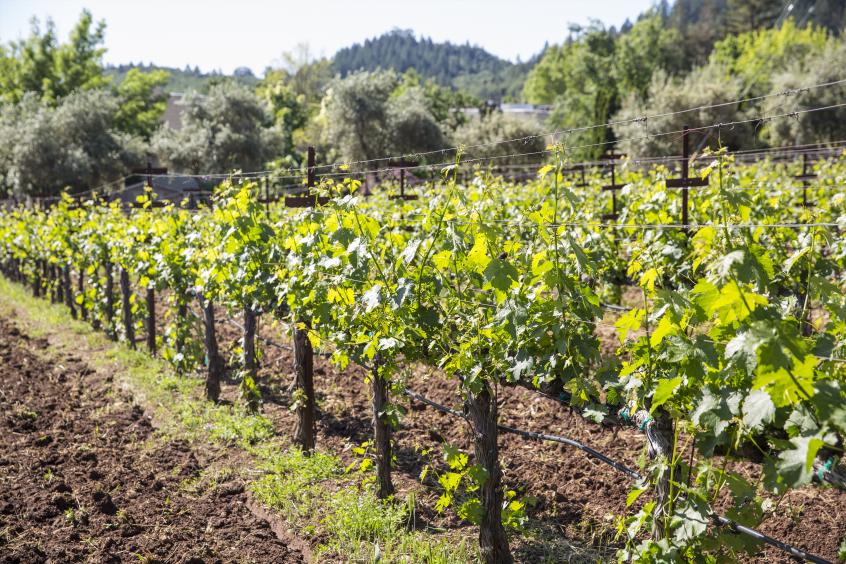 Ted Edwards will be the first to tell you that Rutherford's attention-getting hasn't happened over night. Cabernet and Merlot are the AVA's beacons in 2018, and he's watched them grow brighter during a 30-plus years as Freemark's winemaker. There's been a shift in that time to "more of a focus on the Bordeaux varieties," as he described it. "We used to have Chenin Blanc, White Riesling, and Chardonnay, to mention a few, which you just can't find anymore. It really has become a case study, and a natural evolution to what Rutherford does best: the Bordeaux varieties like Cabernet and Merlot."
Perhaps the most forceful proponent for growing and producing Bordeaux grapes in Rutherford—and, indeed, up and down Napa Valley—was Beaulieu Vineyards' legendary winemaker, André Tchelistcheff. Starting way back in the 1930s, the Russian émigré carved out a place for BV's Cabernet in the long history of Rutherford and even coined the term "Rutherford dust."  
It's a history that is still unfolding. Reached via email during harvest at another Rutherford winery, Frog's Leap, General Manager Jonah Beer paraphrased the famous Tchelistcheff quip that "the Rutherford Bench was like having a mountain vineyard that you could farm on flat ground."
Despite its limited acreage, Beer pointed out that the definition of Rutherford continues to evolve. "Today's Rutherford vintners have explored more," he wrote. "They've found the pockets of clay on the east to grow Merlot, and fertile soils next to the river for Sauvignon Blanc, and smaller alluvial fans that dot the AVA giving us even more diverse styles of Cabernet Sauvignon than ever before."
Then, in a quip of his own, he mused, "If our good fortune holds, 2018 has the hallmarks of a vintage that can stand alongside the 1933 Inglenook. Dare we dream?!?!"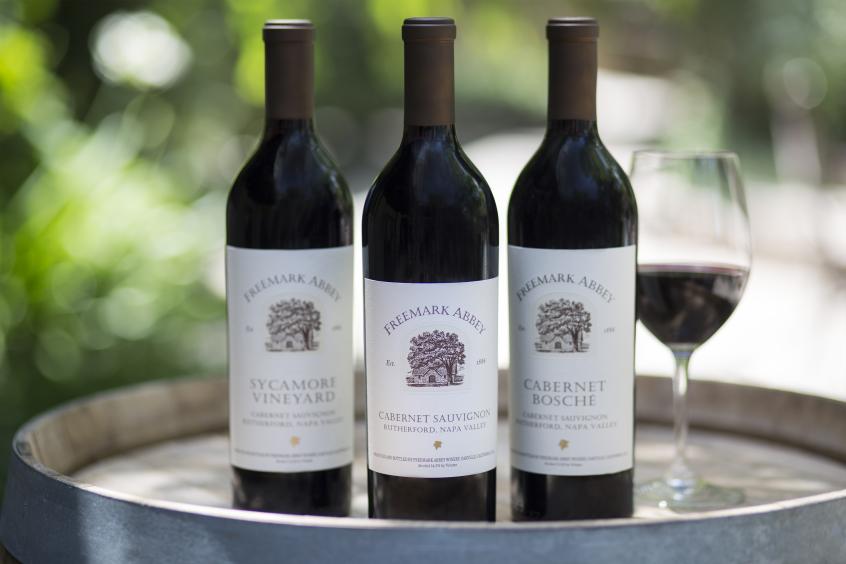 In the meantime, Ted is continuing with his own program to blend fruit from Bosché and Sycamore Vineyards and produce the winery's Rutherford Cabernet. It has made for a rewarding exercise over the years, but no two are the same. "First of all, there is a vintage difference, which always marks itself," he wrote. "Between these two wines, there is a lot less Cabernet Sauvignon in the '15, which is very approachable and delicious."
So, 2015 will look a little different in the bottle than 2014. But the terroir­—the dust— is ever-present. The places speak through Ted's wine.
"I think our Rutherford Cabernet is a great blend of the vineyards, bringing together the best that the soils have to offer."