Freemark Abbey and Its St. Helena Vineyards
Discovering St. Helena Vineyards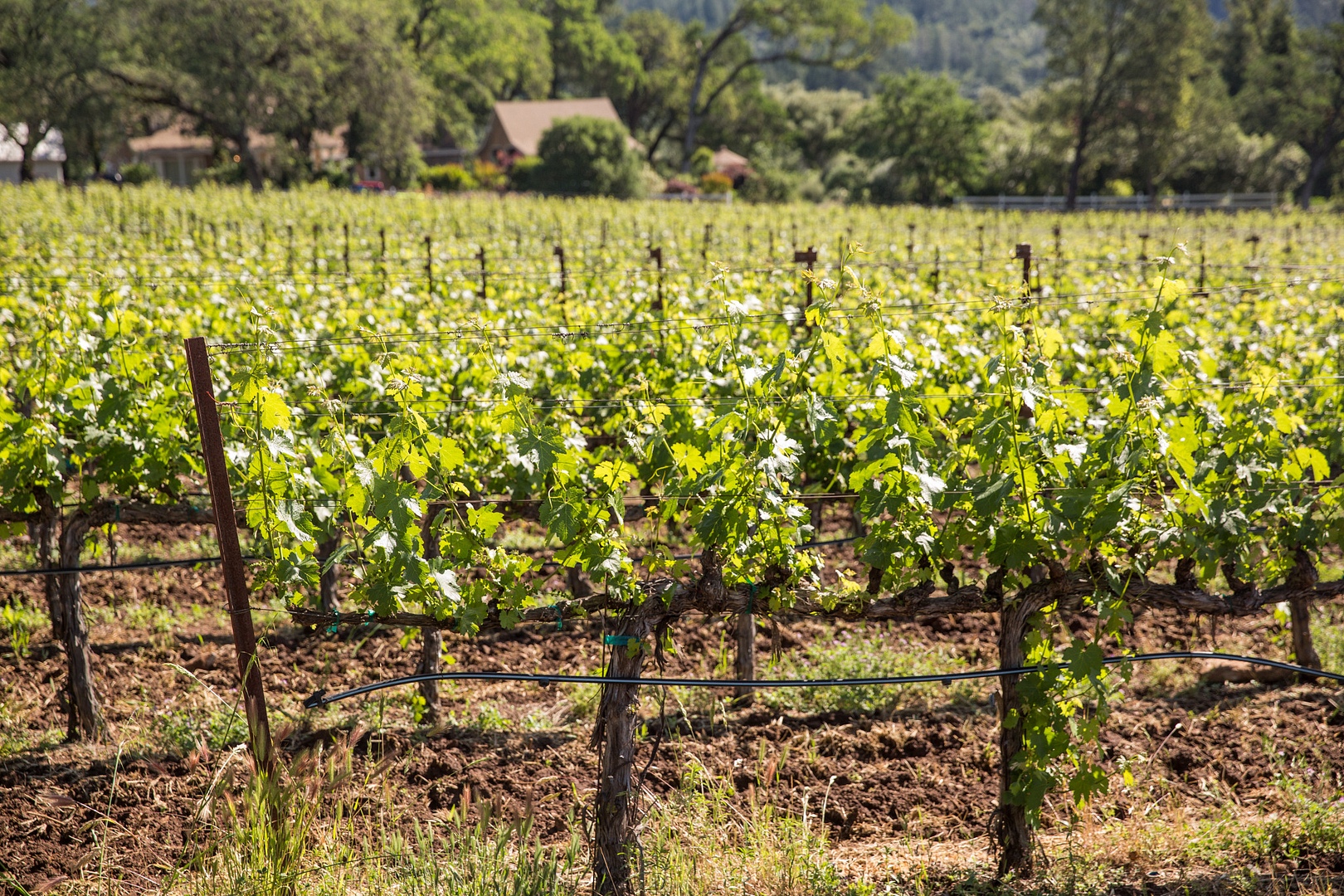 From near-dizzying mountain heights to the rocky benchlands and ancient riverbeds that run beneath them, Freemark Abbey's sources of vineyards up and down Napa Valley are a study in contrasts. So it's no surprise that in its diverse portfolio of wines, the Valley's wide range of viticultural sites are well-represented.
In earlier days, the words "Napa Valley" were assigned to most of Freemark's labels. This naming practice gave way in the 1970s and 80s to more specific designations of American Viticultural Areas like Mount Veeder, Carneros, and, vis-à-vis the Bosché and Sycamore Vineyards, the AVA perhaps most closely associated with Freemark Abbey, Rutherford.
But taking the longer view, the vineyards around the old stone winery—counted among those that would eventually help form the St. Helena AVA—are the ones most entwined with the winery's extensive history. One of them, in fact, is inseparable from the name of the winery itself.
The Legendary Ahern Vineyard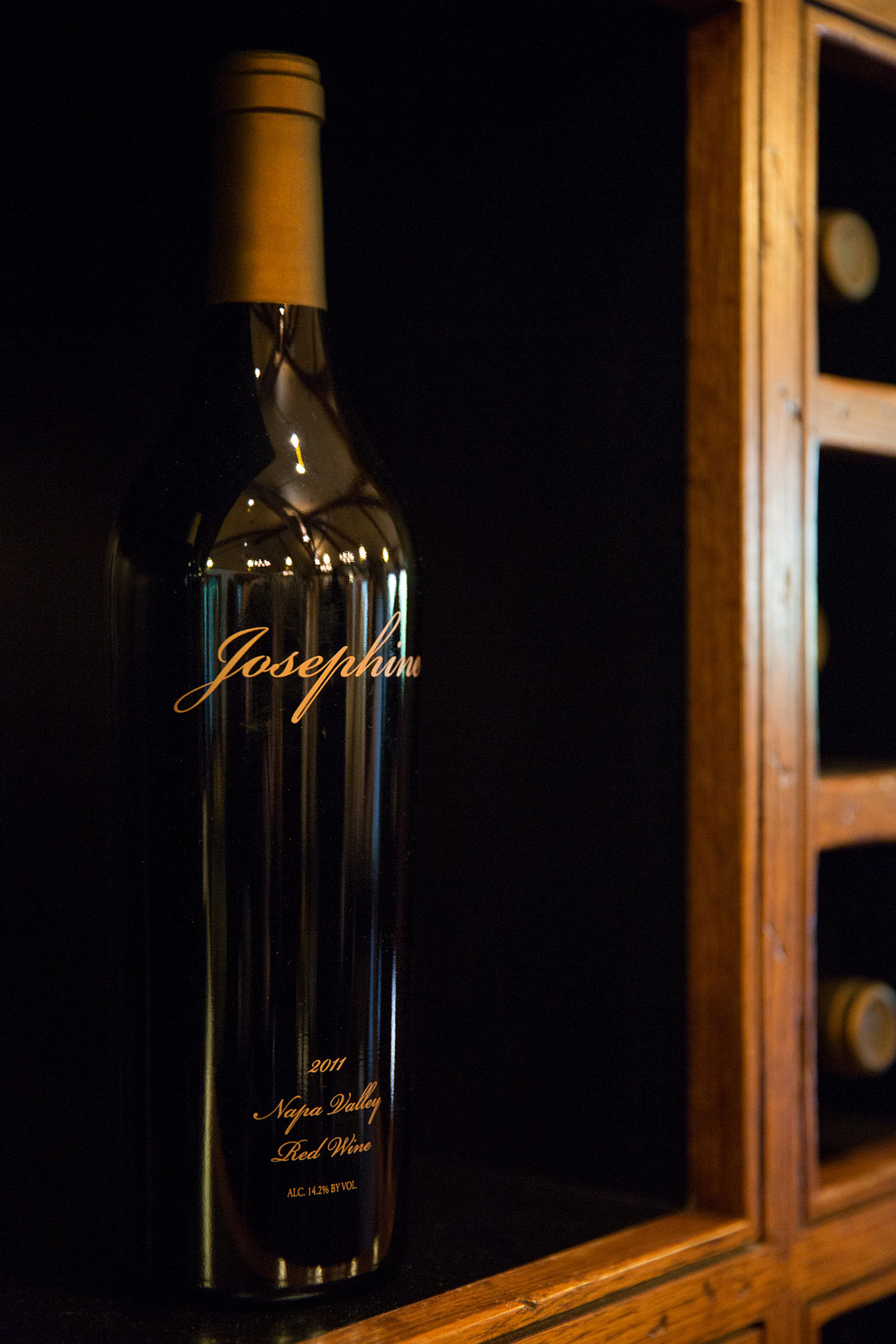 The Cabernet vines of Ahern Vineyard sit a stone's throw from Freemark Abbey's cellar door, just a parcel north of the winery and bordered on one side by Highway 29. This four-acre property is still owned today by the estate of Albert "Abbey" Ahern, who famously combined his nickname with his business partners' names over 80 years ago to come up with the unusual winery moniker. 
Since being planted in the early 1980s, all of the Ahern Vineyard's grapes have gone to Freemark, where Head Winemaker Kristy Melton incorporates them into Josephine's Red, one of the winery's signature bottlings. Like Winemaker Emeritus Ted Edwards did before her in previous vintages, Kristy relies on Ahern Cabernet Sauvignon as a key component of the red wine named for the property's legendary founder, Josephine Tychson. To this day, the site is a link between Abbey Ahern's era and the more distant past, when Josephine was a pioneering Napa Valley grower and winemaker.
"When the Tychsons bought the land back in the late 1800s, their footprint was quite a bit larger than what we have today," Kristy shared recently. "I wish we had some kind of vineyard record that told us what was grown where, but to my knowledge we don't have anything like that."
Still, she noted that she has no problem identifying the vines of Ahern as "historical, and even iconic, because that was the original site of the vineyards."
Freemark Winemaker Kristy Melton Reflects on a St Helena Gem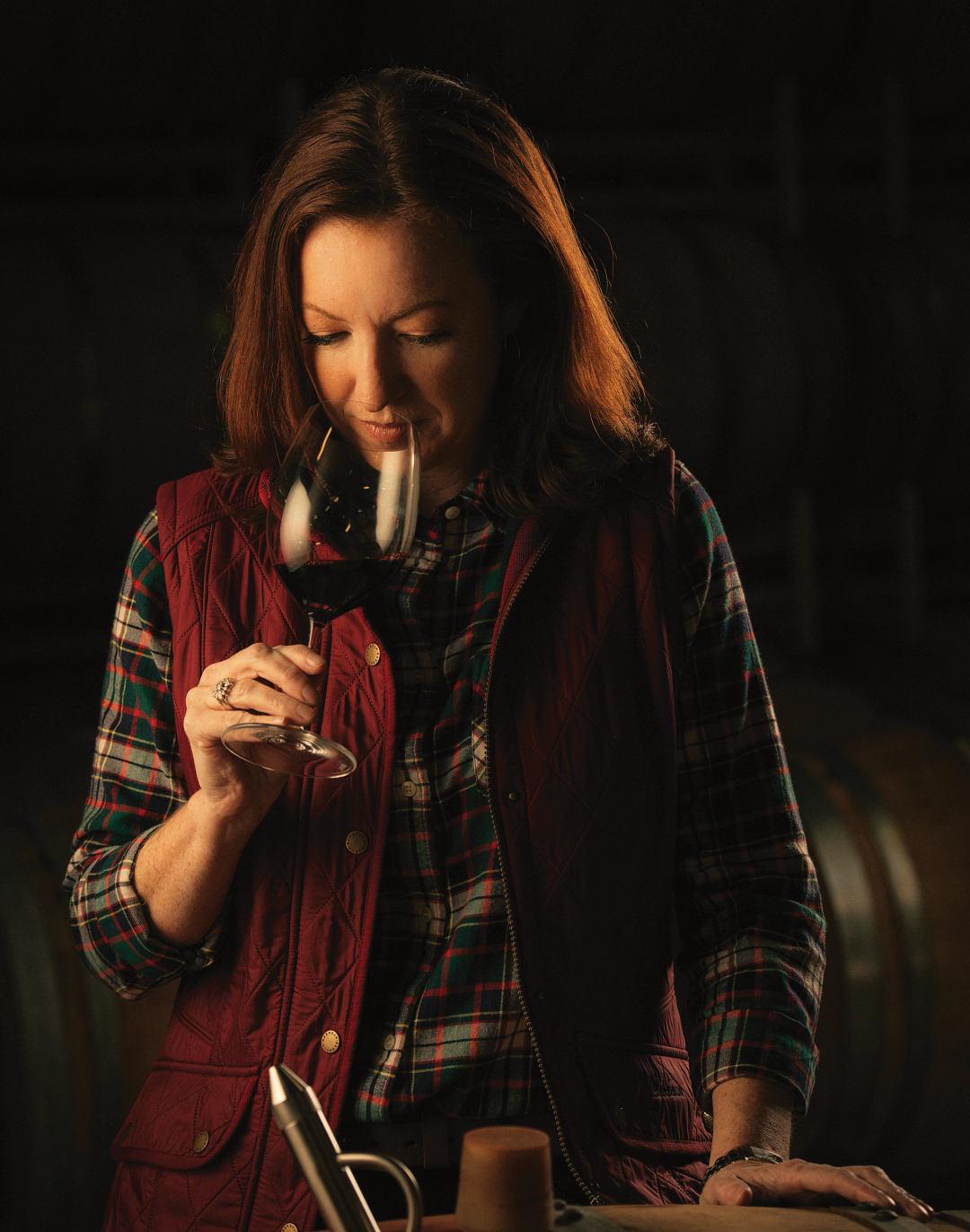 Kristy offered these history-centric comments in early June, juxtaposed at a time of year when she and the viticultural team led by her colleague Rafael Jimenez are normally looking forward and not backward, with an intense focus on how the tiny bunches of grape buds are setting up on the vines. Such growing practices are probably little-changed around the estate since Josephine Tychson's days, even as its overall acreage has been reduced over many years and decades.  
"I think they had 147 acres, so she owned a greater amount of vineyard land back then, which we don't have anymore," the winemaker explained. "But to me, to still have grapes on Josephine's original site is our legacy. It's our attempt to preserve that history of why we were founded in St. Helena."
Though now quite old compared to many of its neighbors, Josephine's estate might easily have been viewed as the new house on the block in 1886, predated as it was by Charles Krug's historic winery a mile down the road. The German immigrant founded Napa Valley's first winery in 1861. Fifteen years later, the Beringer brothers established their famous vineyards and winery at the northern end of town. This was a full decade before Josephine blazed a trail as one of the first women vintners in California.
So the quaint, picturesque up-valley town has been associated with wine much longer than anyone can remember. But as a formally recognized American Viticultural Area, St. Helena's history only goes back to 1995. That year, Chuck Carpy, one of the seven Freemark Abbey partners who took over the property in the 1960s, spearheaded an effort to petition the U.S. government to grant the town and surrounding area its own AVA status.
St. Helena Becomes its own Sub-Appellation
Like Oakville, Rutherford, Stags Leap, and other sections of the Valley, St. Helena possesses unique grape-growing attributes. Carpy and his fellow vintners recognized these and, combined with the town's historical importance to Napa Valley, believed they merited a sub-appellation within it. In October of '95, they succeeded in their mission.
Hired by those same seven partners 36 years ago, Ted Edwards is a great resource for Freemark Abbey information. In fact, he's something of a one-man contemporary historical society. The emeritus winemaker mentioned in an email recently that the Cabernet vines in Ahern Vineyard were planted in 1982. Around the same time, he said, a three-acre section of property owned by the winery was also planted. Flanking the opposite side of the stone building, that site is known, appropriately, as the Freemark Abbey Vineyard.
When he begins his workday, Vineyard Manager Rafael Jimenez often finds himself here.
The veteran grape grower works closely alongside Kristy and her winemaking team. He oversees the vineyards adjacent to the winery, as well as Wilson Ranch, a nearby Sauvignon Blanc site next to the Napa River. This vineyard is also owned by Freemark.
Planted near Main Street downtown, the dry-farmed VanZ Vineyard rounds out the quartet of carefully farmed properties that go into the winery's St. Helena bottlings. They're a small part of the portfolio but, as Kristy pointed out, the red and white wines produced from them are closely tied to the winery's identity.
A New Perspective on a Very Old Site
With three-plus years under his belt at Freemark Abbey, Rafael is a relative newcomer to these St. Helena vineyards. On a recent morning, while offering a close-up look at the Ahern Cabernet vines, he contrasted his Freemark time thus far with the rest of his career among the vines.
"I've done this for forty years," he half-laughed, but with a strong hint of pride in his voice. "That's all I know how to do. When this is over, you know, I don't know what I'm going to do!"
Growing up in the Central Valley farm town of Delano, Rafael started working in vineyards at age 16. Later, at Fresno State University, he earned his bachelor's degree in viticulture and began to master the table grape growing trade in and around Bakersfield. This led him to wine grapes and, eventually, to Freemark Abbey—but not before he'd done the grower's tour of thousands of acres of vineyards in Mendocino and Sonoma Counties, along with most other corners of Napa Valley. After a walk along vine rows with him, it's clear that the St. Helena AVA has added some breadth to his experience.
Traversing the winery parking lot from Ahern to the Freemark Abbey Vineyard, he led way to its mature, one-acre block of Malbec vines. A healthy-looking leaf canopy belied the fact that Northern California's latest drought was in full swing.
"We have to address every Freemark vineyard differently," Rafael said, pushing back some of the green canopy to inspect tiny bunches of buds that would become inky Malbec grapes in a matter of months. "Our approach is that we see what the soils are like and what the vines need, as far as nutrients and water for each."
"I like to say that I'm a practical guy," he smiled again, "and I have a good way of teaching people how to do things. And one of the things that I always do, I explain the 'whys.' Once people who work with me and under me, once they understand the 'whys,' you know, it's easier for them to do the job."
As if to demonstrate this, he motioned southward in the direction of Freemark Abbey's principal source of Sauvignon Blanc.
"You know, if we were to go to block four, which is part of the Wilson Ranch, the soils are typically different than here next to the winery. We don't have the same amount of rocks down below. The soils contain more clay. And because of that, we need to address it by adding a little bit more water when it's hot."
Rafael emphasized that heat is just part of the growing season in certain parts of St. Helena. "So you have to put water on the vines. They don't react well to the lack of water, versus in this area. Specifically, with this Malbec right here, it doesn't suffer. You see all the canopies and all the leaves that are here, all of that lateral growth? That's without any irrigation so far this year."
One Sub-Appellation. So Much Character.
"So there are differences between these St. Helena vineyards," the veteran vineyard manager summed up.
"I think the beauty is that they're quite different and that's why we blend them together," Kristy observed, echoing Rafael when asked to compare the sites—Ahern, Freemark Abbey, and VanZ—that supply almost all of the grapes for Josephine's Red. This complex, ageworthy blend is the only Freemark wine currently carrying the St. Helena AVA on its label.
She offered some expert descriptions, the kind that come naturally to a winemaker equally at home in the cellar and vineyard. "With VanZ being both very old vines and dry-farmed, the berries are really small, and they're really intense. So that's where we get a lot of our character and our tannin backbone."
The small lots of Cabernet Franc and Merlot grown in Freemark Abbey Vineyard, she noted, contribute a range of flavors, from "bright and floral to round and unctuous," while the Malbec vines—the same highlighted by Rafael during his walk through the vineyard—account for a bit more tannin and what she defined as beautiful and exotic fruit.
"And with the other two vineyards, Freemark and Ahern, I think of them as one site, actually, even though they have two names. At one point, they were all part of the Freemark property."
Kristy paused a moment to consider Josephine's Red and the St. Helena vineyards in the context of Freemark Abbey's diverse sources of Napa Valley vineyards, from the mountains to the valley floor: another study in contrasts.
"You know, all of these other vineyards we work with around the Valley are really incredible, but I think it's paramount to the story, and to the winery and its legacy, to continue to farm grapes in St. Helena."