Jerry Luper and The University of Freemark Abbey
Over its long history, transition has been one of the themes at Freemark Abbey.
From the property's earliest days in the 1880s, when Josephine Tychson turned out the first wines from a smattering of Zinfandel and Riesling vines spread out across her 140-acre Tychson Winery estate, to the dark days of Prohibition and suspended winemaking operations, to the 1939 genesis of the "Freemark Abbey" moniker—courtesy of the three business partners who lent parts of their names to create it—the winery has seen its share of change. 
A major transition happened again in 1967 when a pair of Napa Valley grapegrower friends, Chuck Carpy and Laurie Woods, purchased Freemark Abbey and brought five additional partners into the venture. This group of seven came together at a time when the perception of Napa Valley wines was beginning to shift, and for the better. The quality of both viticulture and winemaking was on the rise in the 60's, even if there was still just a handful of actual wineries.
No one in this partnership could've predicted that, several years later, a young, enterprising English wine merchant would arrive at the winery's cellar door for an impromptu visit and tasting with their similarly young winemaker; nor that it would end up permanently changing both Freemark's future and the Napa Valley wine industry's.
But that's what happened when Steven Spurrier met Jerry Luper.  
freemark abbey and the judgement of paris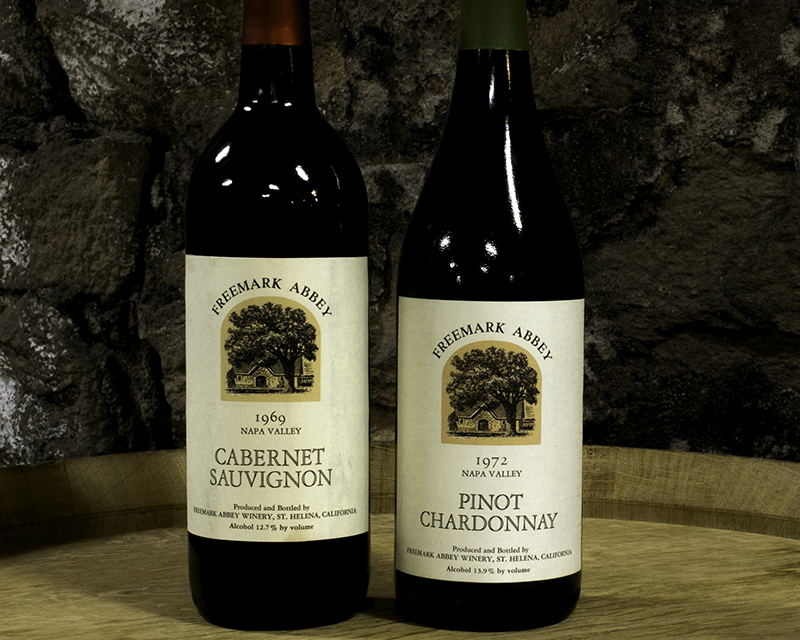 Back in the early 1970's, the Paris-based Spurrier was just in his 30s. Though, as the owner of Cave de la Madeleine—a wine shop in one of the city's ritzier Right Bank neighborhoods—the Englishman was probably as knowledgeable and enthusiastic about Burgundy, Bordeaux, and other high-quality French wines as any non-Frenchman in Paris at the time. Having heard about, and become interested in, Napa Valley wine through journalists and visiting American tourists, he cast his gaze to California.
As luck would have it, when he finally arrived in Napa Valley in 1976, Freemark Abbey was one of the wineries Steven Spurrier decided to drop in on—to the benefit and delight of Jerry Luper.
"Let me tell you how we first met," Jerry shared on a phone call from Gex, a small city in the mountainous Jura region of eastern France where he and his wife, Carolee, retired a couple of years ago to be near their daughter and grandchildren. "Steven came to California in 1976. It was his first trip to see what was going on in Napa Valley because he had heard so much from his friend Harry Waugh, an English wine writer."
Jerry recounted how Spurrier spent several days touring through the valley and visiting a number of wineries.
At one point, he said, the inquisitive wine merchant "just walked into Freemark. I was there, and somebody called me down and said, 'There's an English wine guy here. Can you show him around?' So, I gave him a tour of the winery, and he asked if it would be possible to taste. And after the tour, I knew this guy knew what he was talking about. We opened up two or three bottles so we could taste the Chardonnay and Cabernet. He liked the wine so much, he bought some bottles of '69 Cabernet and some bottles of '72 Chardonnay."
With a note of pride in his voice, he added, "Those actual bottles were the ones that were put in the tasting."
45 years have gone by since "the tasting" Jerry Luper referred to: a comparison of French and California wines organized by Spurrier and his Cave de la Madeleine assistant, Patricia Gallagher, on May 24th, 1976.
It's a wine tasting that has come to be known, rather famously, as The Judgment of Paris.
In it, several "upstart" California wineries' Chardonnays and Cabernet Sauvignons beat out Spurrier's selection of comparable—and considerably more prestigious—white Burgundy and red Bordeaux wines in the blind tasting, as judged by a panel of distinguished French wine experts. The California wines were, of course, also selected by Spurrier and included bottles from some of the properties he had visited on the trip recalled by Jerry.
Notably, Freemark Abbey was the only winery on the California side with both a Chardonnay and Cabernet in the tasting lineup, another thing its former winemaker proudly pointed out over the phone from the Jura.
Sadly, Steven Spurrier passed away in March of this year. The internationally respected merchant and longtime Decanter Magazine columnist is extensively profiled by fellow journalist (and wine enthusiast) George Taber in Taber's 2005 book, Judgment of Paris. Spurrier spent many of his later years downplaying the event, even as the victorious outcome for California continued to be celebrated.
Spurrier's modesty aside, it's a party that carries on to this day—for Americans and California wine proponents, anyway. Over the years, the French have had different things to say about the '76 tasting, some probably unprintable on a winery blog!
"Spurrier liked to be what the French called an agent provocateur," Taber writes in the first chapter of Judgment of Paris. "Above all, [he] thought it would be good fun, and in those days around the Cave de la Madeleine…fun was all that really mattered."
one winemaker's journey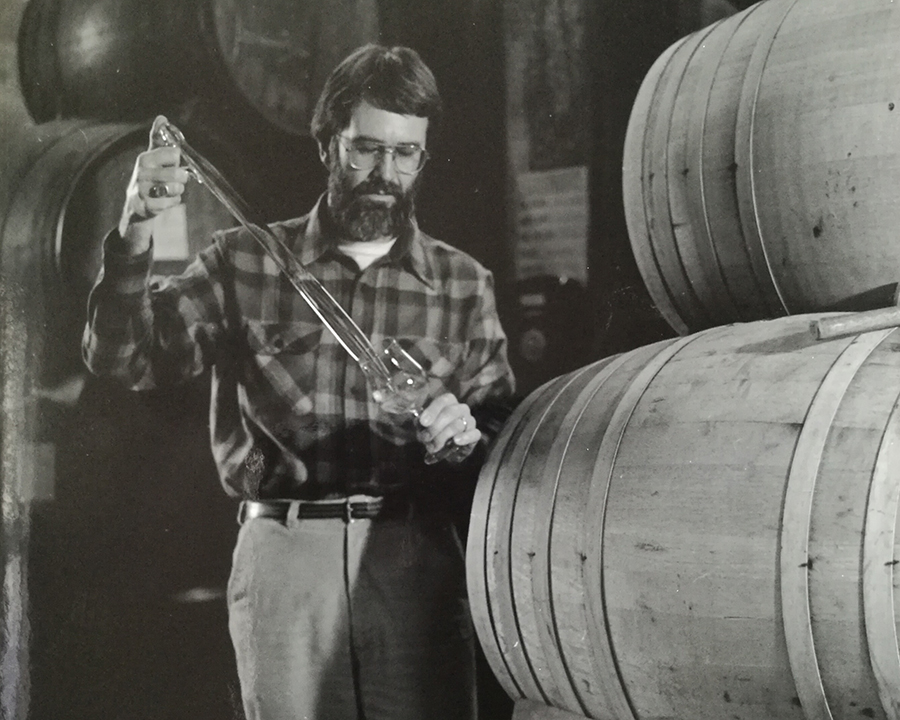 Describing the leadup to that momentous (and downright fun) event in California wine history, Jerry was happy to share his personal history in the wine business.
The career winemaker grew up in Modesto, California and, though his parents weren't wine drinkers, fell into wine at an early age. While attending junior college in his hometown in 1959, he took a night shift position as a local winery lab technician. "I got tired of not having any money, and I couldn't buy my own car," Jerry laughed. "So, I started looking at want ads for a job."
After a subsequent training post at the Army Language School at the Presidio of Monterey, he served a four-year stint in U.S. Army intelligence in Germany, putting to use an aptitude for foreign languages that would serve him well in later winemaking roles.
His Army service lasted until 1965, then he returned to California. After a brief stopover back in Modesto, he moved to San Francisco. With an interest in wine already piqued, he started taking regular weekend trips up to the wine country north of the city. His visits to Napa Valley over the next couple of years caused him to make the most important career turn in his life. "I decided I needed to finish college, and I chose to go to Fresno State and get my degree in winemaking."
Back in the Central Valley, Jerry completed his undergraduate studies through the respected Fresno program in a year and a half. He and Carolee married in August of 1969 (and 51 years later, they remain so) just before he was hired for a harvest position at a Napa winery.
Relocated to the wine country, he began networking with some Fresno State friends at monthly evening meetings and wine tastings held by the Napa Valley Wine Technical Group. At one of them, in the midst of the '69 crush, a winemaker named Brad Webb attended as a guest. Webb put on that evening's tasting, having brought along some of the Chardonnay he made at the St. Helena winery where he was one of seven partners: Freemark Abbey.
"And that's where I met Brad," Jerry explained. "But just, you know, socially. And later on, one of my friends told me that there was a job opening a Freemark Abbey and that I should apply for it. So, I did."
He continued, "I interviewed first with Brad Webb…and then another of the partners, Chuck Carpy, came in, and we talked together. They said, 'OK, thank you for the interview. We'll be in touch with you.' And a couple days later, they called me back. They said, 'You got the job. You're the associate winemaker at Freemark Abbey,' because at the time, Brad was running the winemaking for the winery. And I started the first week in January of 1970."
About Webb, Carpy, and the winery's other five partners, he noted with pride that they were "the people who are embedded in my mind as friends and colleagues for the six and a half years I was at Freemark Abbey." All had a hand in bringing him on board, and together with their new, young winemaker from Modesto, they took Freemark to the next level of quality and recognition in the 1970s.
The inception of the Freemark university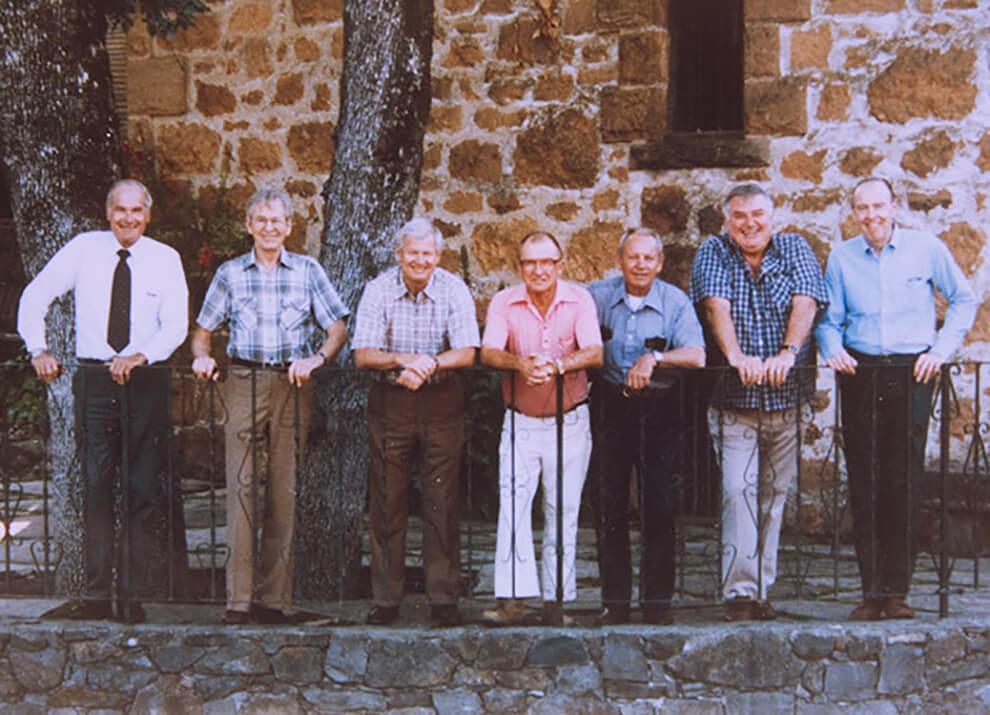 In his book, George Taber writes, "One of the very few people who recognized that something important was happening in northern California was Harry Waugh, a British wine writer and one of the major players in the global wine business."
Waugh, as Jerry noted over the phone, had an influence on Steven Spurrier's perception of California as a potential source of fine wine in the still French-dominated industry of the early and mid-1970's. It was the driver behind Spurrier's famous Paris tasting, which he and Patricia Gallagher organized under the auspices of l'Académie du Vin, the wine school he ran in conjunction with his shop.
Less "formal," but no less important, was the educational channel created by Brad Webb from the beginning of Jerry's tenure at Freemark Abbey, through which a series of winemakers and cellar hands—all graduates of the UC Davis viticulture and enology program, where Webb's brother was a professor—became "enrolled" at the "University of Freemark."
As Jerry explained, "We had kind of a quasi-agreement with Brad's brother, Dinny, who was a Davis enology professor, that whenever we hired somebody to help us out at harvest, we would always hire a UC Davis graduate."
"Dinny fed us crush work candidates from his student contacts. That is how Freemark U. started," he said.
By the time Spurrier came to visit Napa Valley in 1976, Jerry had already "graduated" a number of assistants who would go onto their own distinguished careers in the California wine industry. He went down a list that started with Summit Lake Vineyards' founder Bob Brakesman in 1970 and ended, under his tutelage, with Larry Langbehn in 1975.
A who's-who of notable winemakers came in between, including Peter Watson-Graff, Hank Wetzel, Andy Cutter, and Tom Rinaldi
Shortly after the Paris tasting, Jerry and his wife departed for a yearlong sabbatical in France. Larry Langbehn took over the winemaking duties at Freemark Abbey, a position that would eventually be filled by the winery's current Winemaker Emeritus, Ted Edwards. After his own illustrious career of 35 years, Ted was replaced in 2020 by Kristy Melton.
The University of Freemark has always been an impressive institution.
The culmination of Jerry Luper's tenure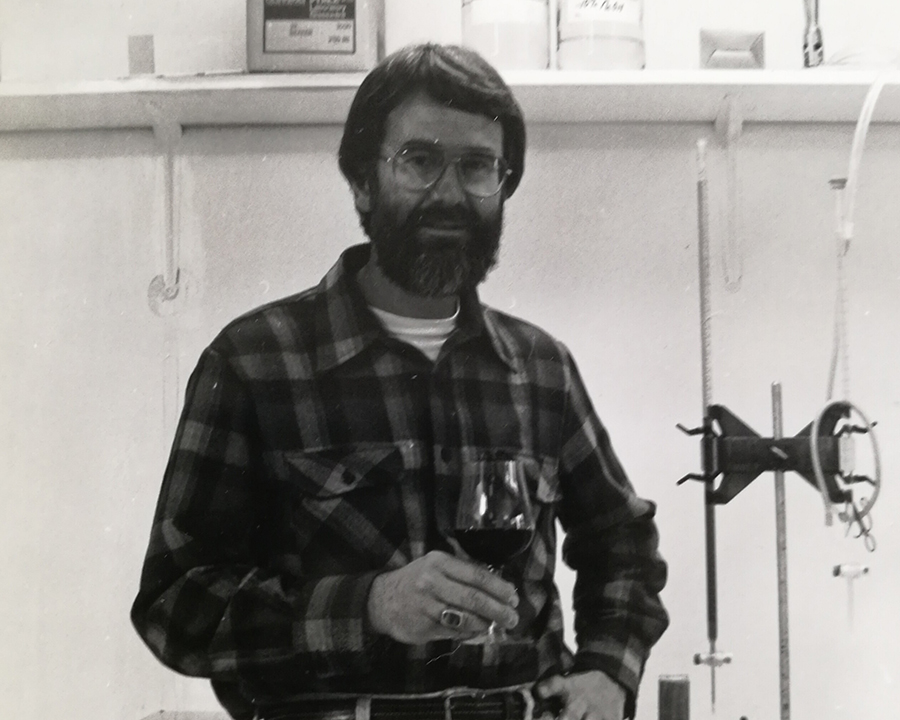 Spurrier's inclusion of the Freemark Cabernet and Chardonnay served as a well-earned source of recognition for Brad and Jerry's efforts up to that point in 1976. The event was one of many significant moments in the winery's long history. But it was almost an afterthought when compared to the methodical planning and hard work that went into building a "modern" Freemark Abbey, a winery that paced some of the advances of quality winemaking in Napa Valley and other parts of California.
Fostering the talents of a series of dedicated UC Davis alumni certainly helped create the conditions for Freemark to become a cutting edge winery, both in terms of technical expertise and viticultural prowess. Each had a lot to do with how Spurrier arrived at its cellar door 45 years ago.
The culmination of Jerry's tenure as Freemark Abbey's winemaker nearly coincided with Spurrier's tasting, coming almost exactly two months after the May 24th event. So, in another example of transition at Freemark, it was an exciting time of change for both winemaker and winery.
Post-sabbatical, Jerry recounted his successful career in both Napa Valley—at Chateau Montelena, Bouchaine, and the Freemark Abbey-affiliated Rutherford Hill Winery—before he and Carolee moved permanently back to Europe.
Through the 90's and better part of the 2000s, he spent fifteen years as a trailblazing winemaker in the Douro region of Portugal, where he helped the venerable Real Companhia Velha winery modernize and improve both its operations and its winemaking. Then, twelve years ago, the Lupers retired to France, where they live quite contentedly near their granddaughters and the Jura Mountains along the Swiss border. 
Jerry Luper has a nearly razor-sharp memory and, over the phone, was happy to reflect on his accomplishments in Napa Valley and those of Freemark Abbey. Now, at the cusp of the 45th anniversary of the Paris tasting, it's clear that the winery's history would read quite a bit differently if Jerry hadn't met Brad Webb at a social gathering back in 1969. As it stands today, their coming together—and the eventual arrival of Steven Spurrier on the Napa scene—signaled the dawn of a new era at Freemark Abbey.