An Ode to Tychson Cellars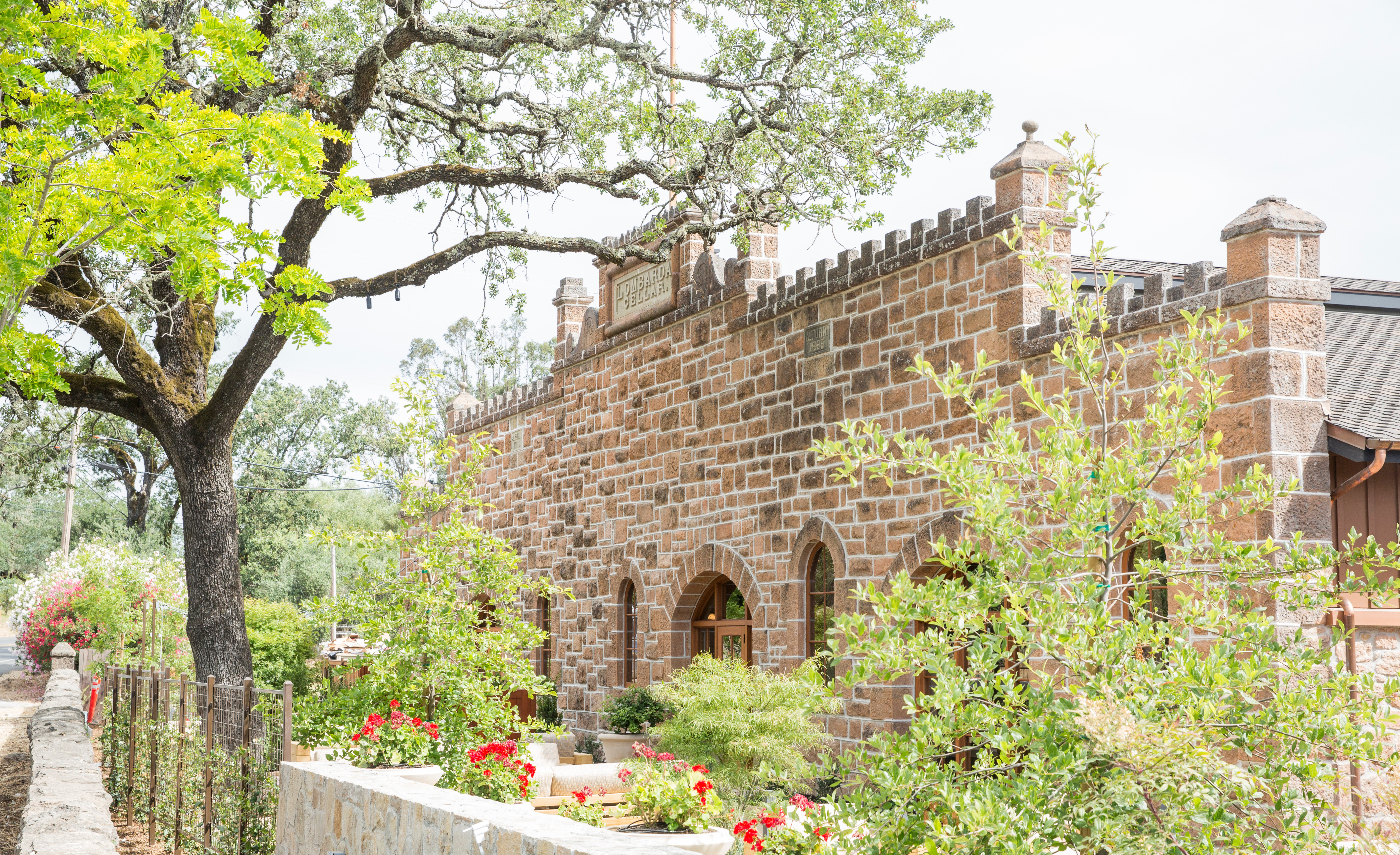 Just across Highway 29 from Freemark Abbey, next to a low, stone vineyard wall, a wooden street sign stands in the shadow of an oak tree. A few names and address numbers decorate the handmade sign, atop which "Tychson Hill Rd." is carved in yellow letters.
People familiar with St. Helena history might know that both the road and the hill it climbs are named for a 19th-century figure associated with this picturesque section of Napa Valley. The winemaker and fruit grower remembered as Tychson was an undisputed pioneer of the day, a trail-blazing, east coast transplant whose surname lives on in Napa Valley history books and lore.
An unpredictable series of events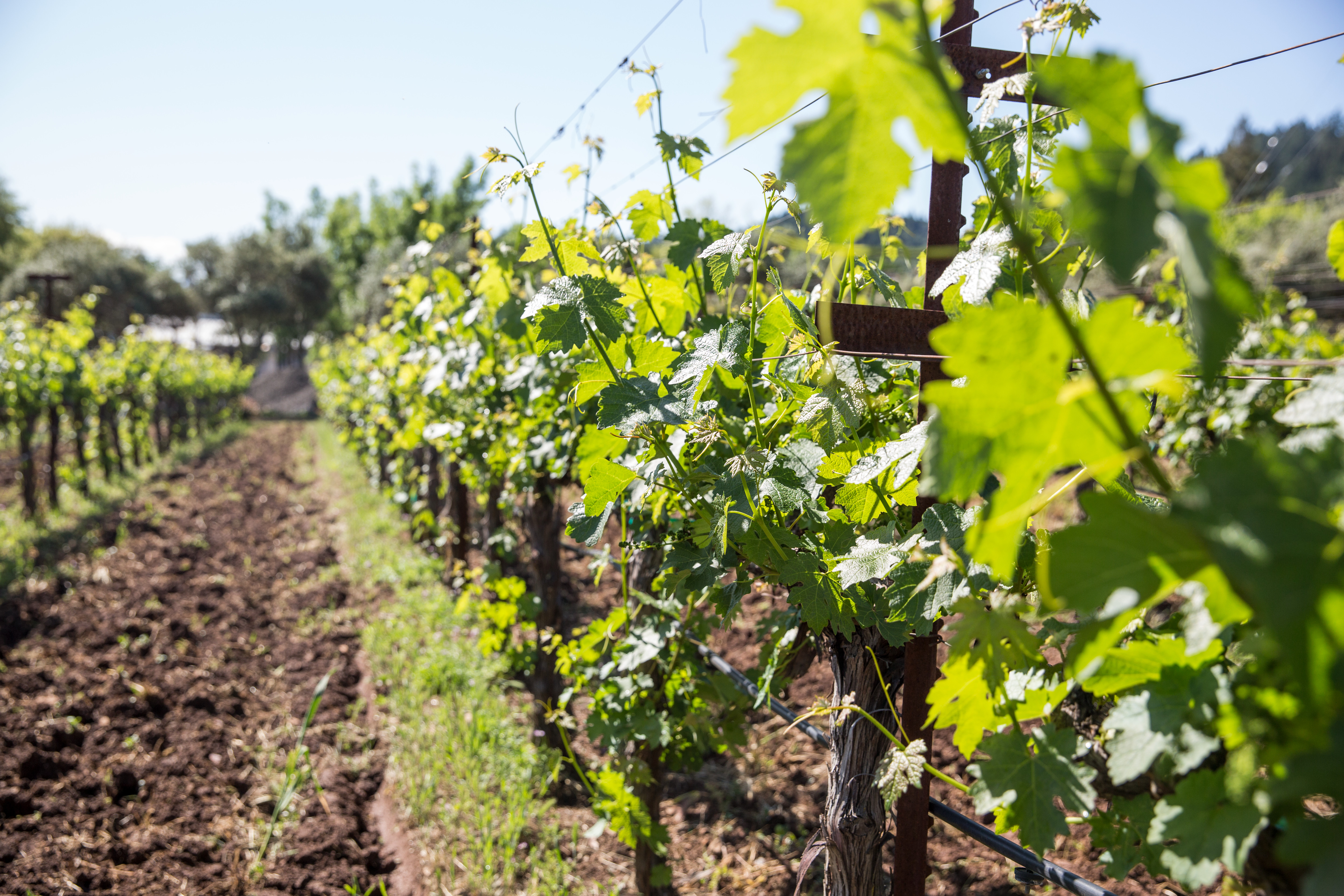 Nowadays, most everyone at Freemark Abbey just calls her Josephine.
When she and her husband purchased the St. Helena property from Captain William Sayward in 1881 with an ambitious plan to grow grapes and make their own wine, Josephine Marlin Tychson, one of the first women in California to practice viticulture, couldn't have foreseen the challenges she would soon face as an early Napa Valley winemaker. These included the tragic death of John Tychson in 1886 and the eventual failure, due to phylloxera, of the promising vineyard they'd planted together as a couple.
 
Even more impossible would have been for her to predict what her name—her given name, more so than the married one—would end up meaning to the modern version of this wine estate over a century later.
josephine's lasting legacy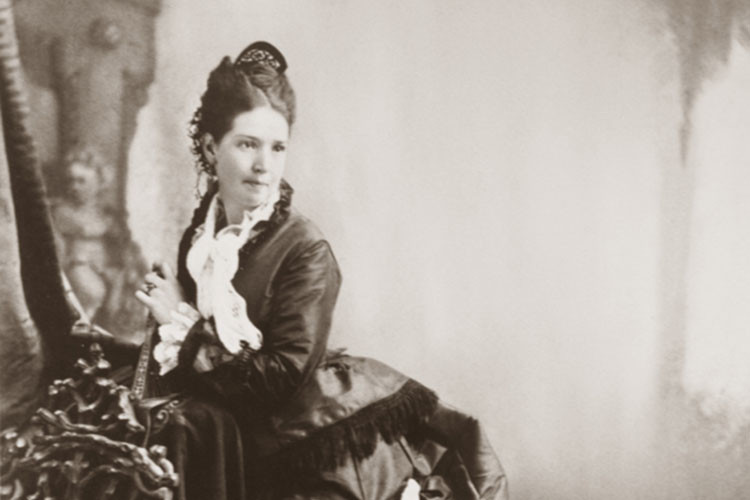 Today, Freemark Abbey and the historical Josephine Tychson are thoroughly entwined. This fascinating woman's link to the winery plays out in a couple of important ways: through Josephine's Cellar Club, one of the most unique collector's opportunities offered anywhere in Napa Valley; and Josephine Red, a wine conceived a number of years ago by winemaker Emeritus Ted Edwards that has since established itself as Freemark's signature, Bordeaux-style red blend.
And, of course, there's Josephine's enduring influence—something Head Winemaker Kristy Melton contemplates often. 
"I think of her as this unrelenting, dedicated, hardworking person who was committed to living out her and her husband's dream," Kristy said this past November after the completion of the harvest. "That dedication resonates with me a lot."
She shared some impressions of Freemark's most recent release of the Josephine Red blend from the outstanding 2016 vintage, along with a few thoughts on the woman who inspired it.
"We try to express that in this wine. The vineyard next to the winery is small, and it produces a very small amount of fruit. It's not like we could ever take it and make the wine in a volume or of a quality that Josephine wouldn't be proud of."
Though the history books further recount that Josephine and her husband planted Zinfandel, Riesling, and "Burgundy" on their property, the vineyard's footprint in the 1880s was not radically different from how it looks in 2020, with three varieties comprising the plantings: Merlot, Cabernet Franc, and Malbec.
Next door, Cabernet Sauvignon makes up the historic, four-acre Ahern Vineyard. Along with Cabernet grown at the Van Z Vineyard in downtown St. Helena, the Ahern grapes are combined with the Freemark Abbey Vineyard fruit each year in the Josephine Red blend.
 
Of these St. Helena vineyard blocks, Kristy offered an observation.
"It was probably the same in Josephine's time. Every row has a purpose, and nothing's without intention or managed without a lot of hard work, because making small volumes of the wine is just as hard as making large ones, if not harder at times." She noted proudly that she and her winemaking team put meticulous care into the four varieties and try to bring the best elements of each to create an elegant, complex wine.
"I think that, you know, the level of complexity and that level of dedication are something I hope would resonate with her."
the history of the Josephine red Blend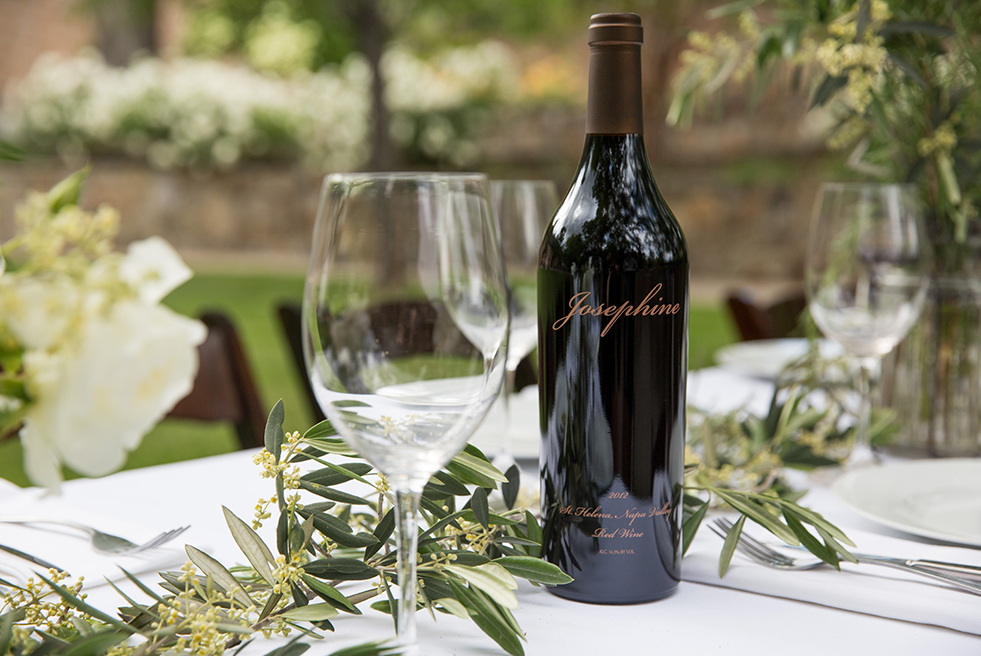 Like the evolution of the property, Josephine Red wasn't realized as an idea overnight. 
At its inception, the bottling named for the estate's founder was a wine Ted has described as not conforming to the norms of vintage, grape variety, or AVA. "The initial Josephine's was non-vintage," he explained in a recent email. "However, as the concept developed, I wanted to create a blend entirely from St. Helena AVA fruit, which would have represented Josephine and her growth" as a winemaker.
Since the 2004 vintage, Josephine Red has carried the St. Helena appellation on the label. Alongside the winery's coveted Rutherford AVA Cabernets from the Sycamore and Bosché Vineyards, Ted oversaw its production and subsequent ascent as a destination-worthy bottle of Napa Valley wine.
Kristy's introduction to it came courtesy of another stellar vintage, the 2012. It would take a wine like the current 2016 to rival such an excellent year in the entire Josephine Red history.
"I had the '12 when I first started here," the Head Winemaker recalled. "Because of its brightness, because it's not a super heavy, extracted wine, it ages really gracefully. It's got plenty of bright acidity and a lovely bright, crisp fruit character."
In keeping with Freemark's reputation as a dependable source of ageworthy red blend wines, Kristy added that, with all of the spice, nuance and complexity she's picking up lately in the '16 Josephine, "I think decades of cellar life is not out of the question for this wine."
an expert in hospitality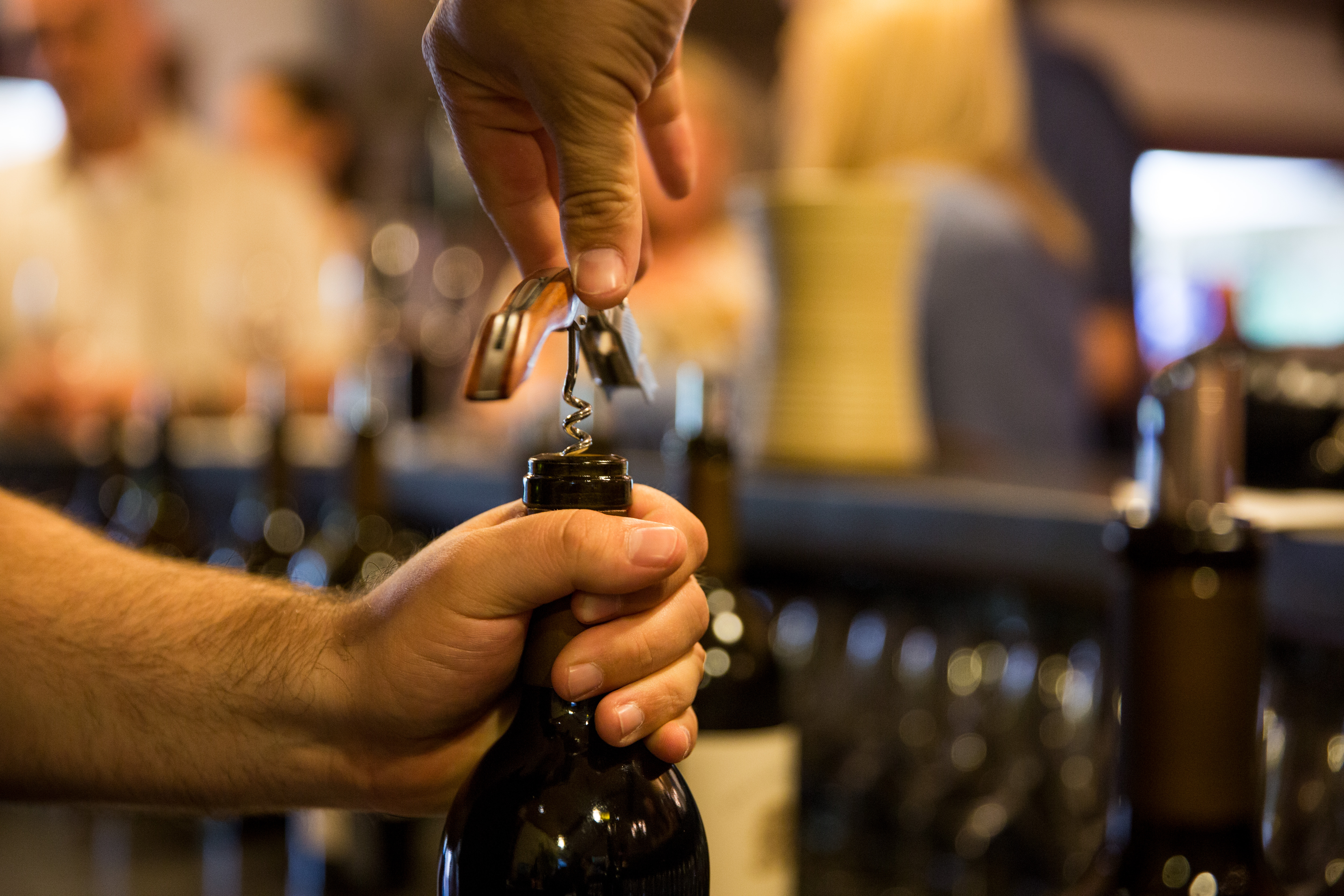 Freemark Abbey's Estate Manager, Gary Geiger, knows a thing or two about the winery's celebrated cellar. Even during the ongoing pandemic, the hospitality expert has been able to welcome Josephine's Cellar and Partner's Club members, along with other visitors, to the winery's outdoor seating areas, where he and his team offer a variety of tasting experiences.
 
For Josephine's Cellar members, this recently included an extraordinary library tasting. The flight of Sycamore Vineyard Cabernet Sauvignon from vintages representing three decades—2015, 2005, and 1995—was a deep dive into the Freemark Abbey Cellar. Other club tasting opportunities include, naturally, a current or library release of Josephine Red.

Like Kristy, Gary is particularly attuned to Josephine's significance as a person.
During a sunny, late morning this past fall, the Estate Manager recently sat down outside of the Partner's Lounge to conduct that fantastic Sycamore tasting. For comparison's sake, he added the '16 Josephine Red blend to the flight. While pouring out tastes of the wines, he offered a detailed summary of the winery's top level of hospitality.
"The life cycle of a year at Freemark Abbey is that we start the year leading up to the February release of Cabernet Bosché," he said. "When we get into April, it's the lead-up to the release of Josephine Red, which is a May release, and then in October, we're onto the arrival of the Sycamore Vineyard release." 
Gary refers to these bottlings as "the three pillars" of Freemark Abbey. While recognizing that Bosché and Sycamore are standalone, single-vineyard Cabernets closely tied to Freemark's reputation, he acknowledged something special in Josephine Red—not just that it's a unique, St. Helena AVA blend, but, as he put it, that "this wine is also a toast and a testament to Freemark Abbey's matriarch, Josephine Tychson."
Swirling his glass of the 2016 Josephine, he highlighted some of the characteristics he enjoys sharing with guests. 
"You'll see it's very complex in terms of how Cabernet Sauvignon and the different red varieties that go into the wine are connected," he observed. "So, what happens is you have a very approachable red blend that shows wonderful drinkability, kind of the feminine side of the wine, along with a beautiful silkscreened bottle as a toast to Josephine founding the property."
a fellow woman winemaker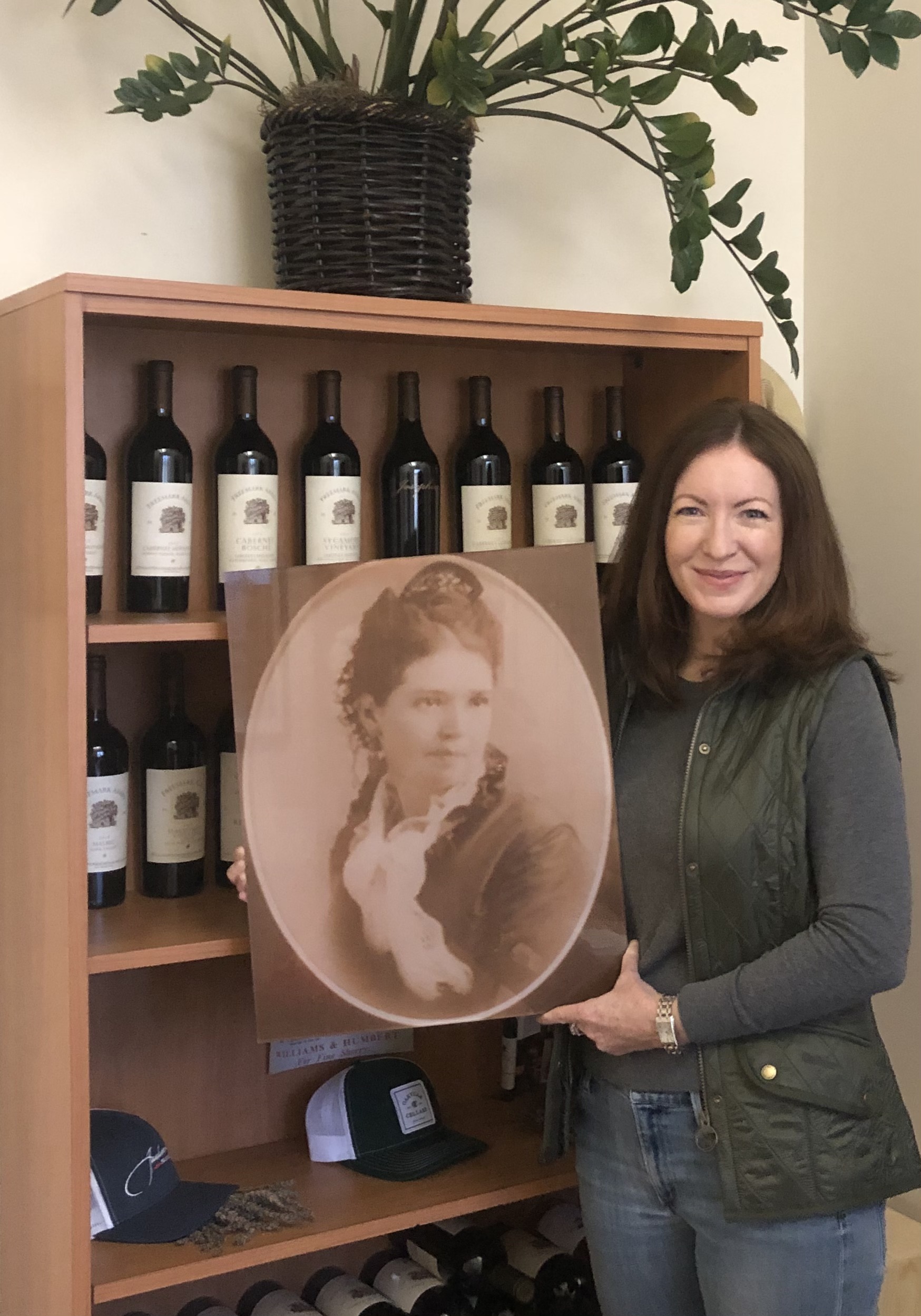 On the wall of her winery office, Kristy has a photo of Josephine. It's a reproduction of a sepia toned portrait. She's spoken before of how, as a fellow female winemaker, the old period picture inspires her at work. Having grown up with gardening, animals, and 4-H in a rural part of El Paso, Texas, she can also relate her predecessor's personal story to her own: Josephine was an equestrian who was often seen, and even photographed, riding her horse sidesaddle on the roads through old St. Helena. But the divide of a long timeline between the two women has created something of a barrier. There's mystery in the photograph. 
"She clearly liked nature and animals. And that leads me to believe she was probably warm and considerate," Kristy said, before heading off to start her workweek at Freemark. 
"I feel like we know her professional story, which was tied into her personal story about her family coming to California and things like that. But for Josephine the woman, what was her personality like? You know, was she fun to be around? Was she actually warm and loving, or was she more serious? I can't say that I know any of that."
"You know, as more and more visitors come to the winery, Josephine is definitely always being enjoyed," Gary summed up about the wine Ted Edwards named for the woman who laid the groundwork of Freemark Abbey. 
As he prepared to welcome a new group of visitors, he made the inevitable comparison to the single-vineyard Rutherford Cabernets, the other Freemark "pillars" he'd mentioned. "The predominant sources of fruit for Josephine are mostly right around us, right here where she lived, next to the winery in the St. Helena AVA. So, we're getting a little bit away from the Rutherford Dust and all the great stories, all of the other wines that are made from that appellation."
"Yeah," he nodded. "I'd say this wine adds a little bit more to the mystery of Josephine."