Part Two: Continuing a Winemaking Legacy
Continuing a Legacy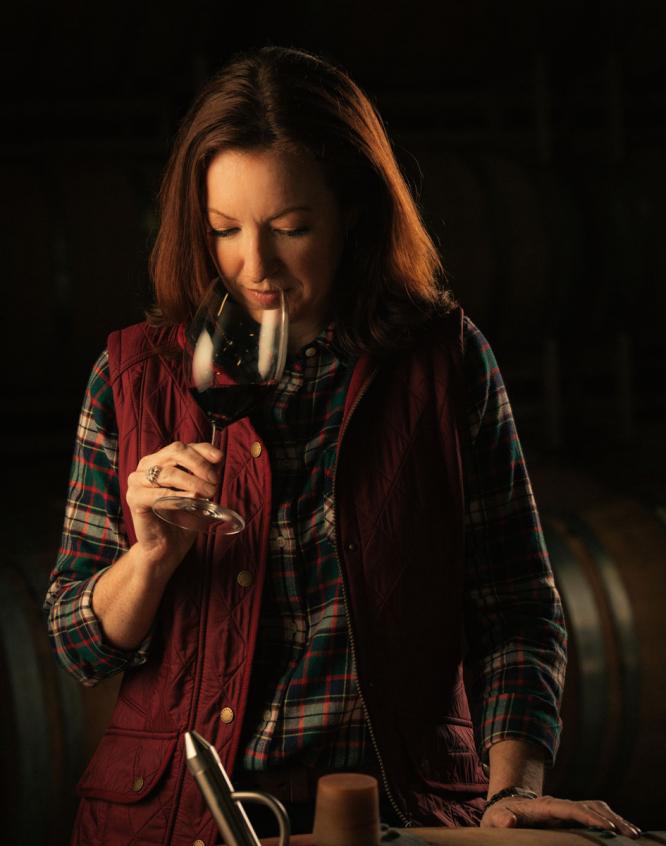 On her winery office wall, Kristy Melton keeps a large black-and-white photograph.
The blow-up is a reproduction of a nearly 130-year-old picture of Josephine Tychson, founder of the St. Helena property that would eventually become Freemark Abbey winery. One of California's first female winemakers, Josephine had more than a few cards stacked against her and was among the state's most intrepid pioneering vintners of the late 19th century.
In the summer of 2020, Kristy is settling into her position as Freemark's newly appointed Head Winemaker. While the cards have lined up more in her favor, as a fellow female she's an heir to her predecessor's legacy at this historic winery.
A global pandemic notwithstanding, the new winemaker is enjoying her days working from a home-office in Napa—though, with harvest around the corner, the vineyards have started to beckon to her and to Ted Edwards, who will be spending more of his time among the vines in his new role as Winemaker Emeritus.
Along with her infectious enthusiasm for the new job, Kristy displays an impressive level of professionalism, coupled with an appreciation for Freemark Abbey's place in Napa Valley history. That photo of Josephine isn't just for decoration.
"It reminds me of all of the hard work that went into this place getting to where it is today," she said over the phone recently. "It's no small notion, the history of the winery or taking over at this point. And that is by no means lost on me."
Becoming Freemark Abbey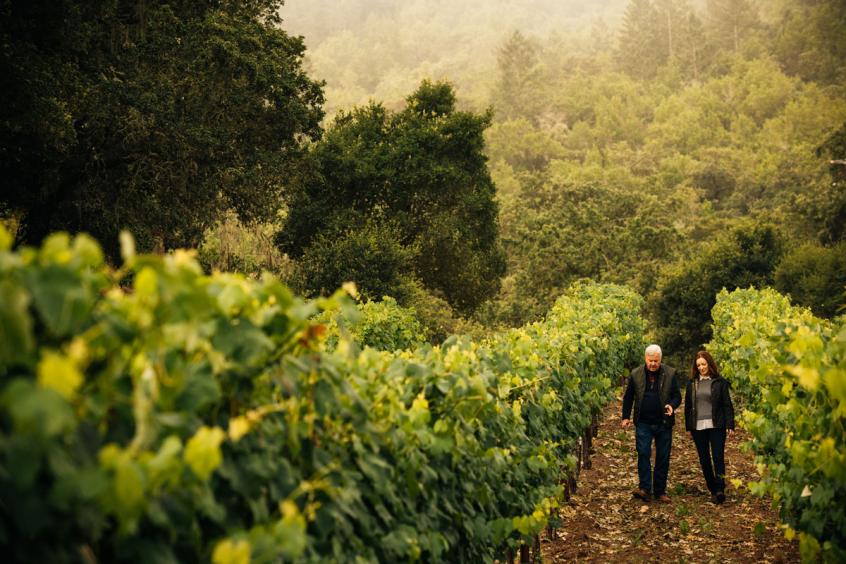 During the conversation, she touched on the changes of ownership at Freemark Abbey through the 20th century—"all of the people who fought through such hardship to keep it going," as she put it—from the Prohibition days when the winery was known as Lombarda Cellars, to the original three partners, Charles Freeman, Mark Foster, and Abbey Ahern, who created the moniker "Freemark Abbey" in 1939 from their combined names.
Then, reflecting on the seven partners in the 1960s and 70s and their eventual hiring of Ted, she described the efforts during that era "to really make Freemark Abbey the heart and soul of Rutherford and St. Helena winemaking."
By the time Ted was appointed Head Winemaker in 1985, the winery already had established relationships with the owners of a number of Napa Valley vineyards. First among these was the Bosché family and their eponymous Rutherford vineyard. Properties owned by some of the seven partners— most notably Sycamore Vineyard in Rutherford—also were a natural fit for Freemark's Cabernet-centric program. Thirty-five harvests later, many other vineyards and grape varieties have helped round out its diverse range of Napa Valley wines.
Resiliant Leadership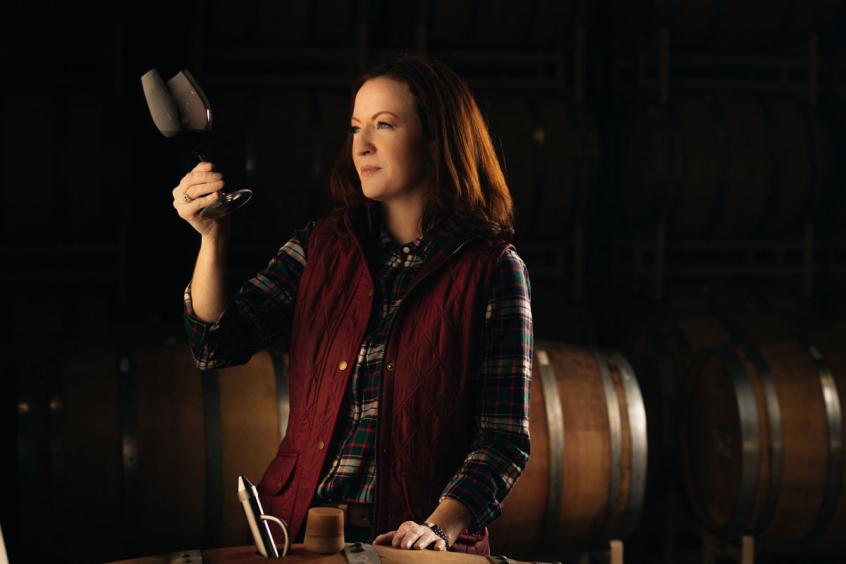 Though she's still a relatively new arrival, Kristy is well-versed in both Bordeaux varietal winemaking and Chardonnay, thanks to her extensive Napa Valley resumé. Having landed at Freemark on the eve of an  unprecedented time, she will be the first to acknowledge how different 2020 is by comparison with anything Ted would have experienced—or Josephine Tychson, for that matter—despite the regular ups and downs of the wine business. Looking back to a year ago, everything seemed on course for a smooth hand-over of the winemaking reins.
"I started working full time with Ted last summer. So, through the '19 harvest, learning about all the vineyards. And on January 1st, we made the title transition where he's now Emeritus and I'm Winemaker," she said, recapping the first phase of her time at the winery.
Then, in March, the pandemic and statewide shutdown hit California. Work life since then has been turned on its head for both winemakers.
"How we'll work harvest this year will be unique and probably not the way I had envisioned it," she predicted. "But I think Ted's still going to look at vineyards with me and take some time with me. It won't be all the time, but it's really just nice to have somebody who is both a mentor and a friend, because he really is."
She added that they've fallen into joking around together and sharing winemaking stories. "We have a great time, so it's less 'professorial' and more like camaraderie, I think. And that's what's made it a really cool adventure for the two of us."
On top of the new hierarchy and job descriptions at the start of the year, Kristy and Ted got more than they bargained for when the decidedly un-cool "adventure" of Covid-19 began just a couple of months later. With travel plans scratched for their country-wide Celebration Campaign (which they'd actually managed to kick off, in Chicago, before shelter-in-place became everyone's new normal), they had to rethink a national strategy for getting in front of Freemark Abbey customers, collectors, and enthusiasts.
Then, in the nick of time, along came the Zoom meeting.
The virtual meeting format has adapted well to the concept of group wine tasting—and vice versa. Wineries up and down California have turned to computer cameras and screens to continue their diverse range of hospitality and other engagement with their customers, from their friends and neighbors just down the road to wine consumers clear across the U.S. and even internationally. For their part, Kristy and her Freemark Abbey colleagues have embraced the virtual format.
"What I've had to do is completely re-envision my interaction with customers and salespeople, because I was actually going to do a lot of things up at the winery with consumers, like our wine club parties and things of that nature," Kristy explained. "So, we've all had to learn very, very quickly how to engage with them virtually. And thankfully, we've been able to do a few private group meetings and tastings."
An Optimistic Outlook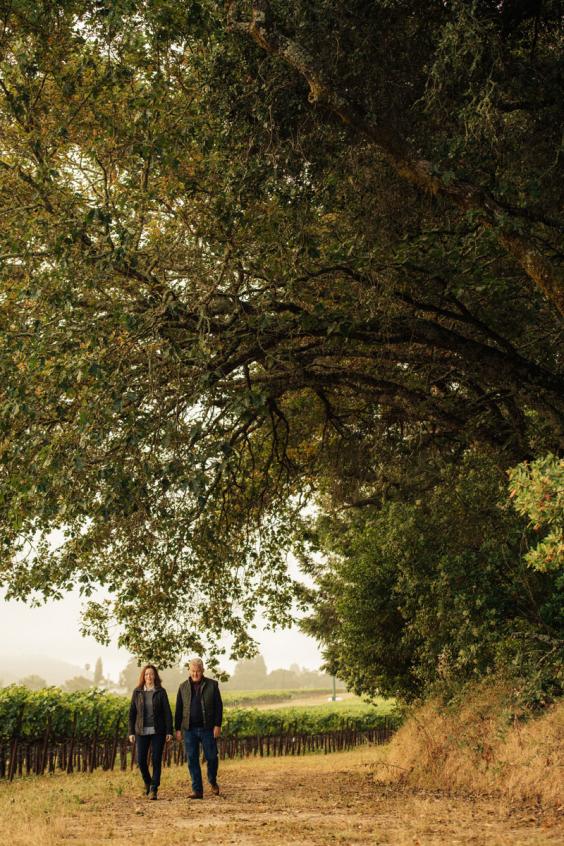 A recent event was organized by Freemark Abbey's Brand Ambassador, Barry Dodds, along with Andrew Haire, a Washington, DC-based wholesaler and colleague of Barry's. The pair partnered with a couple of northern Virginia restaurateurs, Elizabeth and Rick Myllenbeck, who assembled a group of their customers to taste some pre-selected Freemark wines and be introduced—virtually, of course—to both Kristy and Ted in the live Zoom meeting.
On top of the chance for Freemark supporters to participate in this new tasting format, the meeting was designed to make up for some of that opportunity the two winemakers lost earlier this year to get the word out about the leadership transition at the winery.
Reached on the phone after the Myllenbecks' virtual tasting, Andrew Haire was upbeat about the changes this year has brought.
"The fact is that Freemark Abbey has two phenomenal winemakers," he noted proudly. "And now, with Kristy at the head position, Barry and I will take it upon ourselves to show people in the DC area what this winery really can become."
The wholesaler has enough experience buying, selling, and collecting Freemark Abbey wines to take the long view on where they've been and, under Kristy's talented direction, where they're going.
"We've got the huge wine library, along with the education piece through Barry, and the great winemaking of Ted and Kristy. I've said this before: I think it's a seamless transition for us to be able to go out there and pour these wines for people and say, 'Hey, look what Freemark has done for the past 30 years. Wait until you see what's going to happen in the next 30.'"
Looking Towards the Future
While the immediate present may still be dominated by pandemics, safety concerns, and finding ways to engage with customers, Ted is also happy to look to the future and consider his successor's place in it.
Reached on the phone while on a midsummer break at Lake Tahoe, he reflected on their new job responsibilities. "We're taking on different aspects of winemaking," he said. "I've been walking in vineyards, taking notes and making observations and such, and I share those observations with Kristy. She's been working on the 2019 Chardonnay blend, getting that ready to bottle."
Ted went on to describe Kristy as "a generator of ideas who thinks about the job 24/7" and zeroed in on winemaking decisions and people management as two of her greatest strengths—neither of which has been diminished by the challenges of the pandemic. If anything, he emphasized, this time has brought out the best in her abilities to lead at Freemark Abbey, symbolized by her "ideas of how we're going to manage the winery and the cellar and equipment in this world of Covid. And ideas on how we protect ourselves, keep the business going."
And what about that 2019 Chardonnay?
"She dropped off a sample to me at my house, and I tasted it. It was wonderful!" he exclaimed.
"After 40 years of winemaking, I could not be more pleased to have someone like her—and particularly her—in that position be taking over. One more thing I'd say about Kristy is that she has an incredible, bright palate. You know, she's fresh, she's bright, and she's very enthusiastic about winemaking as her vocation. And she is, I think, just way turned on to be the Freemark winemaker."
As such, Kristy gets the final word.
"I think this winery is everything that everyone who's been involved has ever wanted it to be," she summed up on the phone. "It's been classic and timeless and quality-driven. You know, working with Ted is a real honor. And so every day I reflect on that."