A Walk in the Vines with Winemaker Kristy Melton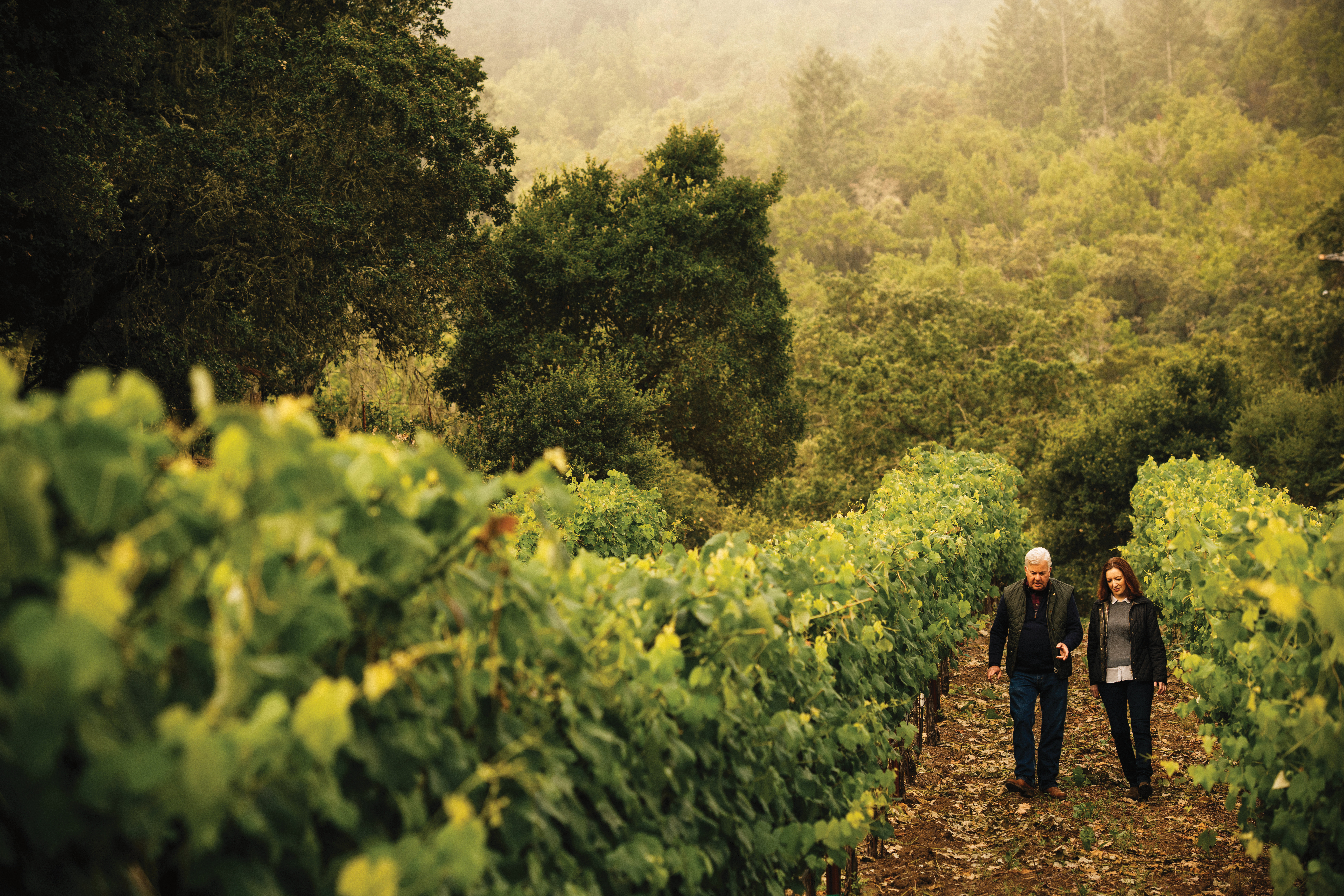 Her title at Freemark Abbey is Head Winemaker, but walk among the vines for an hour with Kristy Melton and you'll understand the saying, "Great wine starts in the vineyard."
And while not all great California wines come from Napa Valley, some of the state's best get their start in this famous valley and its sub-regions. Situated at its geographic heart, Oakville is such a place on the Napa map. As one of Kristy's best sources for fruit to make both red and white wine, Freemark Abbey's 34-acre vineyard in the Oakville viticultural area brings out the inner grape farmer in this skilled winemaker.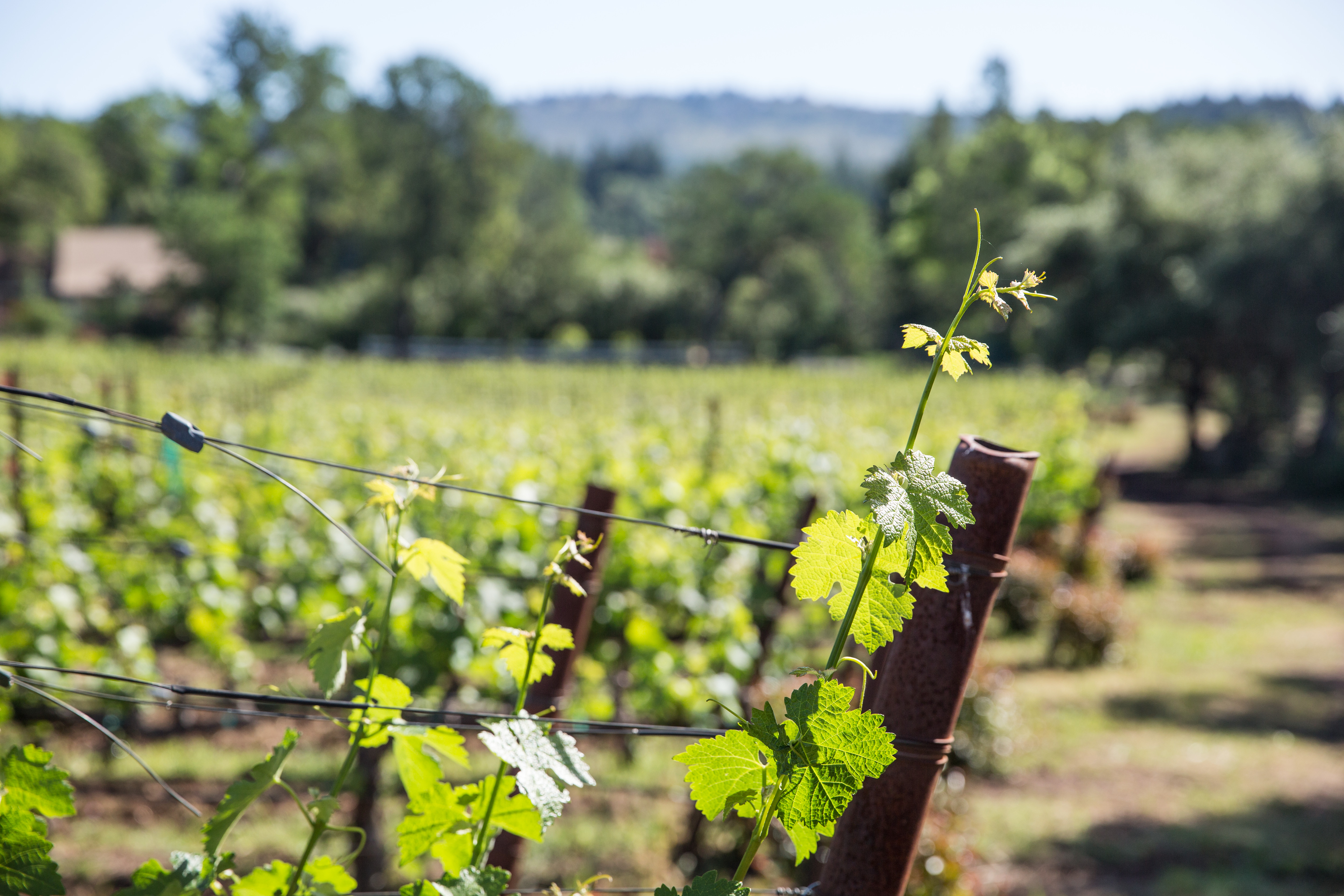 New Growth in the napa Vines 
A recent, sunny spring morning saw Kristy anxious to get away from her winery office and out in the nearby vineyard for an in-person look at budbreak—the time when the growth cycle of grapes begins with the appearance of tiny buds on the vines. Before heading out, she indicated the framed photo of Josephine Tychson, founder of the original wine estate that would become Freemark Abbey, hanging behind her desk. It was March and the middle of Women's History Month, and her acknowledgment of Josephine as one of California's pioneering female vintners, 140 years after the Pennsylvania native came west to St. Helena, reflected the fact that Kristy herself is a modern standard-bearer for women who make wine.
If, to repeat that saying, great wine starts in the vineyard, then first and foremost the grapes have to be grown under the right conditions. As a female vintner in the late 19th century, Josephine stood out among her male counterparts. She was, however, respected for her ability recognize the potential for quality grape growing on the land she and her husband had purchased from a retired sea captain in 1881.  
A Changing Climate
Nearly a century and a half later, the growing conditions in Napa Valley may be in the process of changing, but how they affect the wines she makes for Freemark Abbey is where the conversation starts with Kristy. It often begins with the weather.
"Due to the difficult conditions of 2021 with drought and heat, we have much smaller amounts of budwood, so we're already looking at a smaller crop in '22," she observed of the year so far, an eye out for signs of budbreak as she surveyed a newer block of Cabernet Sauvignon vines at the edge of the Oakville vineyard. "We've been hoping for rain, which we haven't really had yet. Most of the rain came last year. But budbreak is starting to occur around the valley, so we've got pruning under control. It's mostly finished everywhere in our vineyards."
Ever the expert on winemaking concepts and practices, Kristy displayed her related knowledge of grape farming as she bent down over the young Cabernet vine suspended on a trellis wire, still bare at this point in the season of any leaf canopy. Along a thin cane growing up out of the vine's trunk, she pointed out the buds dotting its length. A little later in the season, she explained, after "they enlarge in size and then become really fuzzy," the buds would get "a little more bald right before budbreak happens. Then the first little leaves will come out and a shoot will start growing from there. And so it's approaching."
Kristy studies these young vines with anticipation. "Budbreak is almost here. They're thinking about it."
Her familiarity with grapevines comes from a combination of viticultural study, on-the-job experience over her extensive career, and, for the last couple of years, close interaction with Freemark Abbey's head grower, Rafael Jimenez. He has been with the winery for four years and is a 40-year veteran of the grape farming business. Additionally, he's an expert in organic viticulture.
Both Rafael and Kristy know that while the vines' physical components change little year after year (besides growing larger, of course), the all-important weather factor can, as in any other farming endeavor, cause drastic changes to fruit quality. This is true even in a region like Napa Valley, with its mild, Mediterranean climate. Tied closely to variations in the weather—and, in particular, to the warming climate—is the concept of water management.
As she moved onto an older section of the vineyard, Kristy touched on its moisture retention. She compared the growing season of 2022 thus far to the previous year's conditions. "I'd say we're in a similar state. We got very little springtime rain last year, which made for pretty low vigor."
She noted that the back-to-back dry years have offered challenges to Rafael and his team of growers. But from those challenges last year, they've learned to adjust their watering in 2022. "Now is not normally a time we would water the vineyard, because we would be getting rain, but that soil moisture is imperative for successful budbreak and shoot elongation," the vines' growth phases that are essential to developing a crop of grapes.
"So we learned the hard way last year and we're fixing it this year."
Between the clay-loamy, gravelly, and volcanic soils that comprise the Oakville vineyard's terrain, each is best suited to specific grape varieties. It's never a surprise to hear Kristy talk about the predominant plantings of Cabernet Sauvignon and Sauvignon Blanc across the property's nearly three-dozen acres. The latter vine happens to thrive in the alluvial-gravelly soil adjacent to the vineyard's border along the Napa River.

a very unique niche
But another white variety, Viognier, allows her to operate in a different space than what is normally associated with Oakville. She's learned over the last couple of years working in the Oakville vineyard that this noble Rhône Valley grape can fill a very unique niche, but it takes work. "Viognier is tricky," she emphasized. "It's really taken time to fine-tune. When I first started working with it, the wine we made wasn't particularly 'Viognier-like' in its aromatics. I had to try a couple of different fermentation techniques to avoid that viscous character that the grape can have, and to keep it bright, aromatic and refreshing."
Passing along the edge of the Viognier block—grape grower's territory—she stayed in winemaker mode as she noted with pride that this unusual white grape presently joins Cabernet Sauvignon as the only other Freemark Abbey wine labeled under the Oakville appellation (the Sauvignon Blanc is blended into a different Freemark wine). Thinking about Viognier's characteristics had her mind back in the cellar, even as she walked along the vine rows.
Kristy's near-effortless switching back and forth between the two roles is part of what Rafael Jimenez most appreciates in his colleague. "She's totally devoted to the quality of wines that she makes," the head grower said recently. "And she's willing to share information about the wines. So, we taste together and compare vintages."
He shared that, as a winemaker, she has helped to shape his own palate and influence how he tastes. Just as important, she offers Rafael her assessments on what is working in the finished wines and where there's room for improvement in subsequent growing years.
"What we did differently one year, we might just replicate for the future," he explained. "But other times she might point out something that we probably need to cut back on—say, leafing, or exposure of the vines or the fruit, those kind of things. When that time comes, she's heavily involved in giving me feedback about the things that we can do. And we kind of agree together, 'Okay, let's do this or let's do that,' and it works well."
Their interactions vary in frequency during the growing season, from multiple times a day during harvest to sporadic meetings and conversations over the dormant winter months. But even when things are at their quietest, Kristy has good reasons to connect with Rafael.
During a tasting in January, they were able to compare notes on multiple vintages. Kristy noted her goal was "to communicate the quality differences in some of the farming we've done. We did some modifications on crop load and leaf coverage, and so I wanted Rafael to taste those differences. I think that's really important for him to see the results of his work."
What she puts into her job in terms of multi-tasking and wearing the interchangeable hats of head winemaker and burgeoning grape grower, she gets back in the satisfaction of knowing that Freemark Abbey's vineyards are unique expressions of place through her wines—and across a variety of Napa Valley sites, including Oakville.
"Cabernet is still king in Napa Valley and in Oakville," Kristy acknowledged before heading back to her office. "But I love diversity, and I think that's where we can really thrive."