A Reintroduction of the Partners Blend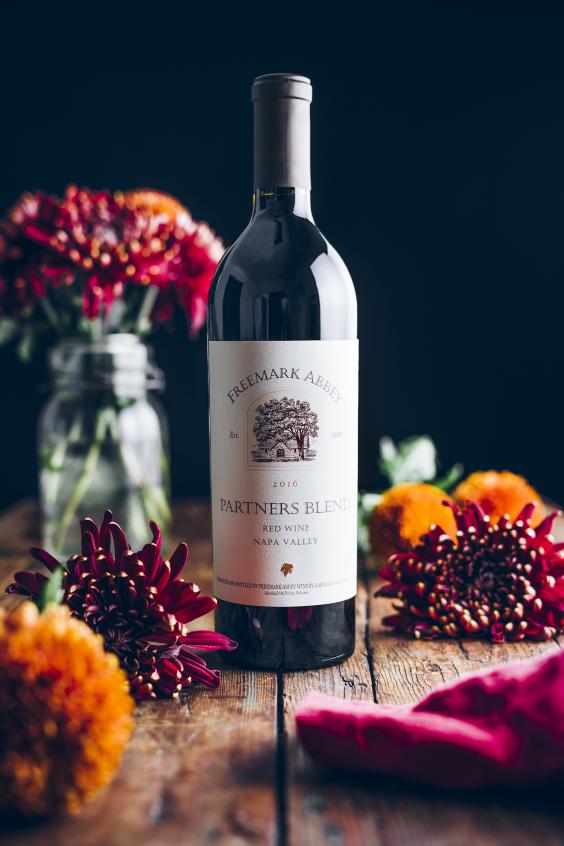 Over a long stretch of vintages at Freemark Abbey, this historic property has come to be associated with individual red wines that rank among Napa Valley's finest. First among them are a famous pair of Cabernet Sauvignons.
Winemaker Emeritus Ted Edwards has a decades-long track record with two iconic Rutherford vineyards, Bosché and Sycamore. Freemark's extensive wine library is a testament to his and his team's enduring success with the Cabernet and Merlot fruit supplied by the vineyards' owners.
In more recent years, other wines have followed the Sycamore and Bosché bottlings: proprietary Bordeaux blends like Josephine Red Wine, Restoration Red, and, of course, "Ted's Blend" Red Wine—a true winemaker's blend of fruit from Ted's favorite vineyards. 
Partners Cabernet Sauvignon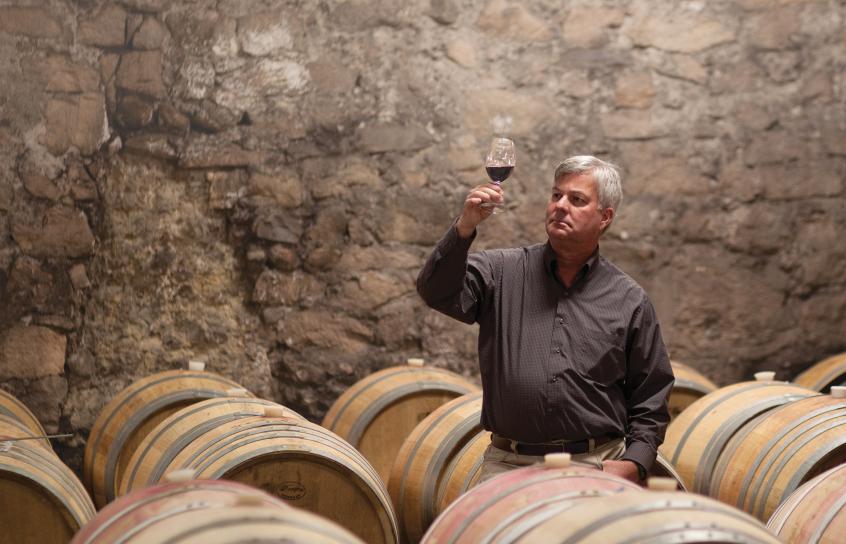 In 2006, in the months leading up to that year's harvest, a collective decision was made at Freemark Abbey to bottle a 100% varietal wine and call it Partners Cabernet Sauvignon. The idea, according to Ted, was to release a wine that highlighted Sycamore, the vineyard owned by John Bryan, one of the famous seven business partners who took ownership of the winery back in 1967.
If that '06 wine went into bottle with Bryan in mind, there was, on Ted's part, some deserved self-recognition behind it. "Well, you know, the seven partners hired me in 1980, and they actually took me on as a partner in 1992," Ted recalled this past October while waiting for '19 fruit to roll into the winery during harvest. "So I became the eighth partner."
A follow-up Partners Cabernet was made from the 2007 vintage. Then Ted and his team moved onto other projects. But the idea for such a unique proprietary wine never went away. 
The Partners Blend is Born
Flash forward to three years ago, when, during the summer of 2016, anticipation was high for a harvest that might rival the epic back-to-back vintages of 2012 and '13. The huge, healthy crops from those years were equaled up and down Napa Valley in 2016. "2016 was just a great, great vintage," said Ted. "I really think everything turned out well. It was just a really nice growing season."
And it turned out to be a perfect vintage for Freemark Abbey to relaunch the Partners concept. This time, however, Ted decided to put a twist on it and make it an atypical Napa Valley blend. And, with that, the 2016 Freemark Abbey Partners Blend was born.
A Blend in Bordeaux's Right Bank Tradition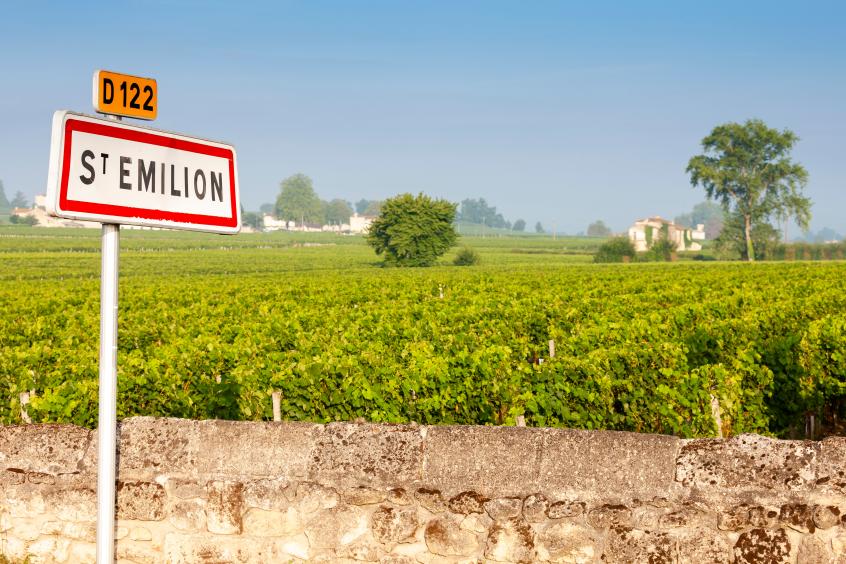 He explained that the '16 Partners Blend was inspired by red wines from the eastern section of France's Bordeaux region, known as the Right Bank, where Merlot and Cabernet Franc play starring roles in counterpoint to the Cabernet Sauvignon-centric Left Bank. Noting that it's mostly Merlot, Cabernet Franc, and Malbec, he admitted that a tiny percentage of Sycamore Vineyard Cabernet Sauvignon was included—an example of the Winemaker Emeritus's prerogative.
"This one has a little different flavor, I guess, the 2016, making it into a Right Bank blend. Rather than just come out with 'another' Cabernet, we wanted to create something a little different."
To achieve this, Ted and his team employed the Freemark practice of highlighting tried-and-true vineyard sources. In the case of the '16 Partners, it was Stagecoach Vineyard, high up on Atlas Peak and the source of some of Napa Valley's finest Merlot. "There's a lot going on in this wine," the Winemaker Emeritus noted with pride. The results were so stunning, in fact, Ted surmised that "the 2016 is more of a model of what we want to do going forward."
Something New in the Tasting Room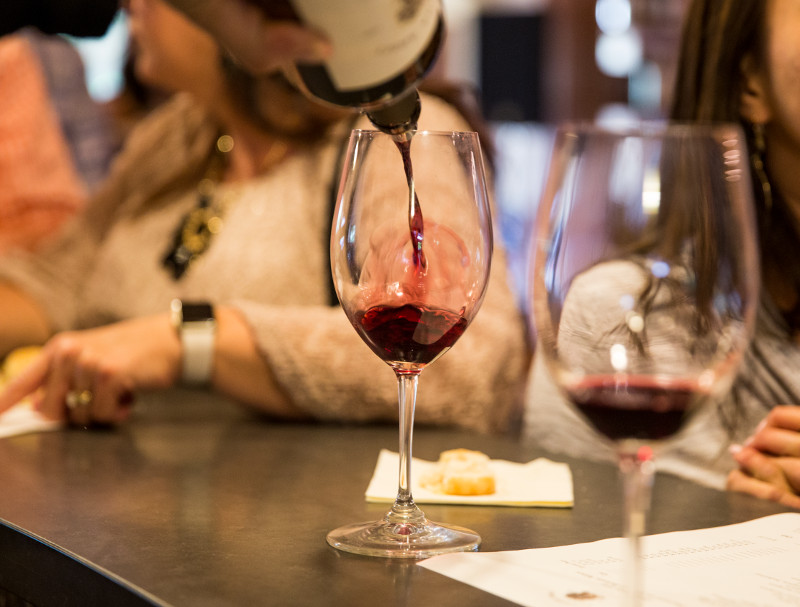 One of Freemark's past, present, and future goals is to showcase the range of Ted's winemaking to visitors from near and far who venture into the historic tasting room on Highway 29.
"Freemark Abbey has always been on our radar, so it was a great place to stop. It was awesome, in fact!" enthused Alison McCrary over the phone after an early November visit with her husband, Mike. 
The Southern California couple were on a mid-week getaway. They'd heard that, in addition to red wines, Freemark makes a unique style of Chardonnay, as well as Viognier, a variety they hadn't had much experience with in tastings. What they were treated to by Estate Manager Gary Geiger was nothing short of a full display of Ted Edwards' winemaking range. 
"It was great to meet Gary. We tasted a lot of wine!" McCray laughed. She and her husband were particularly taken with the 2015 Sycamore Cabernet Sauvignon they had a chance to sample, but she pointed out that the '16 Partners Blend also left an impression. 
"Gary told us about [the Partners] in terms of it being a special blend that Ted had created. He factored in the seven partners who'd been so significant in the life of the winery. So, I think that alone was charming to Mike and me. That, you know, the partners' backstory had a lot of significance."
"And," she added, "it really was a great red wine, and Gary really spoke to that."
While the McCrarys could envision Freemark wines like the Sycamore and Bosché Cabernet Sauvignons ending up in their cellar, their host that day echoed the idea that the '16 Partners Blend is perhaps more immediately approachable. "It's not an overpowering wine," Gary shared shortly after the couple's visit. "It's a very approachable red in our portfolio."
His hospitality team in the Freemark tasting room would probably agree with him.
Partners Blend Tasting Notes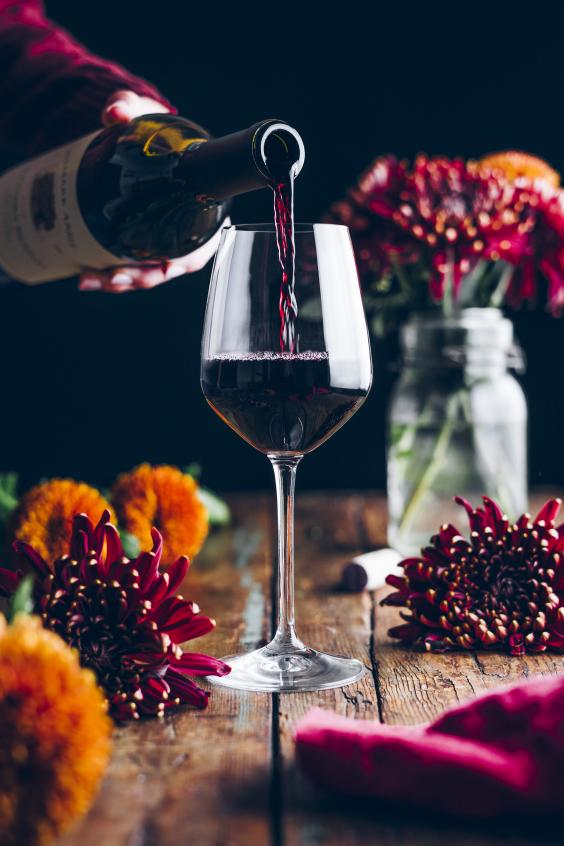 "'A lot of range to the palate, a medium body with the medium tannins,' is one of the comments that a team member of mine made," he said, reading from notes he complied with his tasting room colleagues.  "And hints of mocha, dark chocolate, and blueberry, those undertones, with a little French vanilla in the finish: those are some of the things we picked up on."
The Estate Manager emphasized that, with a red like the '16 Partners in the current portfolio, "it really gives a nice introduction to the combination of the Merlot and the Cabernet Franc." 
Honoring the Past by Looking Forward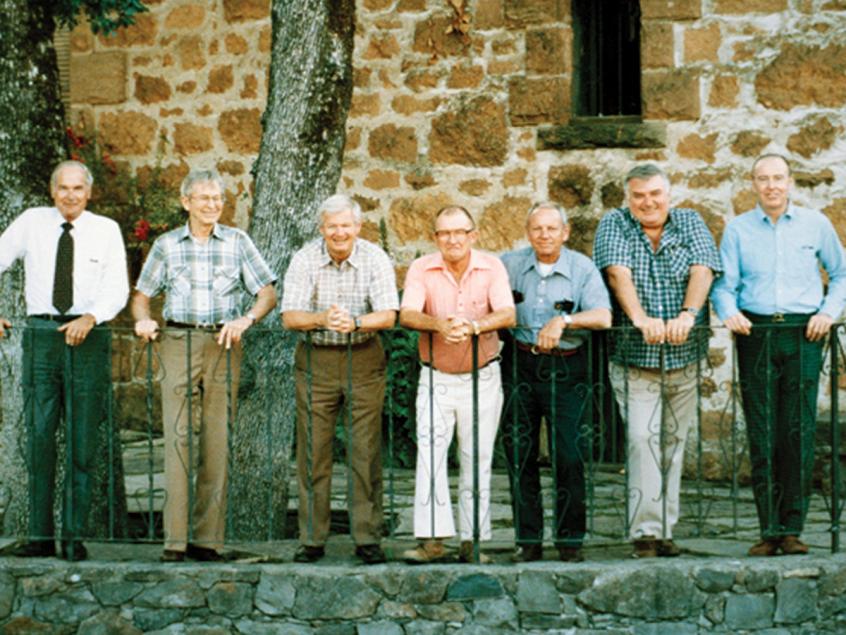 Ted wouldn't be the first Napa Valley winemaker to say that a person cannot live by Cabernet Sauvignon alone. Freemark Abbey's contemporary history going back to the 1960s and the seven partners' role in it provide some larger-than-Cabernet context to the modern-day version of the Partners Blend. 
"If you visit our tasting room, the history is very dominant, of course, and the partners are a big part of that. This wine kind of just underscores that sentiment," he said.
"You know, they were the salt of the earth. I mean, great businessmen, great farmers, and great partners."