The Story Of Rutherford's Iconic Sycamore Vineyard
Sycamore Vineyard Through the Decades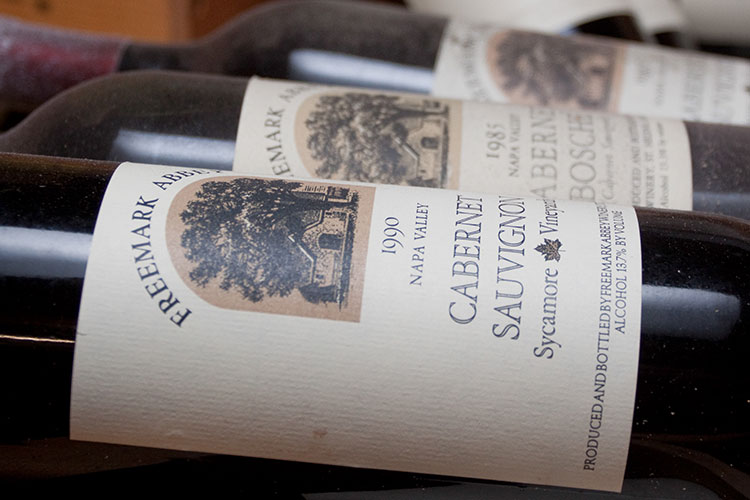 For a winery as long-lived as Freemark Abbey, it's no surprise that some important milestones are part of its history. Though the winery's history spans decades, during the 1980s a couple of these milestones happened to arrive back-to-back. Both moments still resonate at Freemark Abbey today.
In 1984, the winery harvested its first commercial crop of Cabernet Sauvignon from a recently planted piece of property in the Rutherford Bench called Sycamore Vineyard. Then, 1985 saw Ted Edwards promoted to Head Winemaker after being hired by Freemark Abbey's storied group of partners just a few years earlier.
It was a pair of auspicious occasions for a winery already associated with iconic Rutherford Cabernet and highly skilled winemaking.
Flashing forward to the present—and past many more milestone Napa Valley vintages—Freemark Abbey is getting ready for its 37th harvest from the Bryan family's 20-acre vineyard at the end of Bella Oaks Lane. Its namesake sycamore trees shade the ranch house, while the nearby Mayacamas Mountains provide a dramatic backdrop to Sycamore Vineyard.
The wild, picturesque property that the late Freemark Abbey partner, John Bryan, purchased in the mid-70s and planted with Cabernet Sauvignon and other Bordeaux varieties is, to this day, still one of Ted's favorite vineyards in Napa Valley.
Building a Reputation as a Rutherford Icon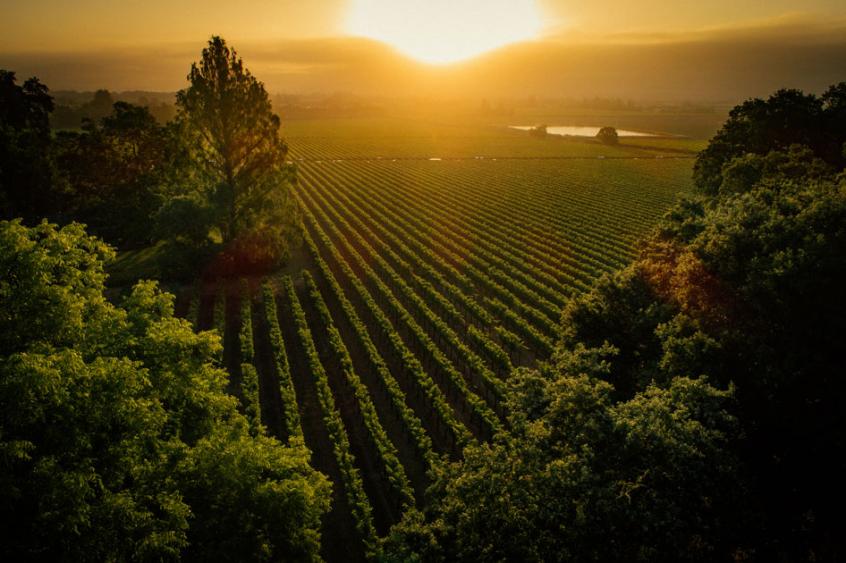 Having been hired in 1980, Ted's career at Freemark nearly parallels the vineyard's existence. He has watched it grow, season after season, into a mature source for Cabernet Sauvignon in the Rutherford District, one of California's, and the world's, pre-eminent grapegrowing regions.
On a warm August morning, the winemaker emeritus walked through Sycamore to take grape samples and make mental notes ahead of the upcoming harvest. His long tenure and countless vineyard walks before this one have provided an informed perspective on how the property ranks within the great Rutherford appellation.
"This section of the Valley is a mosaic of soils and growing areas," he pointed out, making his way along the edge of the vineyard's Block 5. "Sycamore is a component of that. It's one section. So, what I would say is that this vineyard has the quality. It sets the bar, so to speak, for Rutherford wines."
Of course, looking back, it's taken Ted and his winemaking and vineyard team many years to get Sycamore Vineyard to where it is today. Reputation-building through viticulture isn't a quick process. But even before that '84 harvest, he and his colleagues saw what John Bryan saw: the potential for great winegrowing.
"The vineyard was planted in 1976 or '77, in that ballpark," Ted shared, while kicking up a bit of Rutherford dust between two vine rows. "I remember the first gondola [of picked grapes] in 1980, and we got four tons. So, that means it probably was planted in '77, because it wasn't much yield. But we were really excited about it because it had very small berries. And we were just thinking, 'Wow, this is going to be really great! This is going to be just as good as Bosché.'"
He mentioned the other jewel in the Freemark Abbey crown of Cabernet sites, Bosché Vineyard. Less than a mile north of Sycamore, this similarly sized Rutherford property is the older and more established of the two. Though, after decades of acclaimed wines produced from each vineyard, their reputations are perhaps starting to even out.
Ted focused on the vines before him. "That first gondola was kind of like a sample, really. But then it ramped up in terms of production. Every year we kept a few cases, or we bottled a few cases separately. It was in the '84 vintage that we said, 'You know what? This is really, really good.' So, we decided to make a vineyard designate. 1984 was the first year that we did that."
A string of great Napa Valley vintages in the mid-80s helped launch Sycamore Cabernet Sauvignon as a single-vineyard bottling. It also gave the winery a valuable addition to its already vaunted library. That morning, Ted couldn't recall the last time he'd ventured into the library for some '84 Sycamore. He made the educated guess that it was probably tasting great today.
In the meantime, he'd recently tried the 1987 Sycamore, one in an exceptional lineup of vintages that trigger his sharp palate memory. "That still had some fruit. It was a good vintage. It was really extracted. Actually, I'd say it was very earthy, tarry, with dark fruit. A lot of that character with time has married, so it's really nice. Now it's just kind of a nice, elegant, older cabernet.
A Complex Napa Cabernet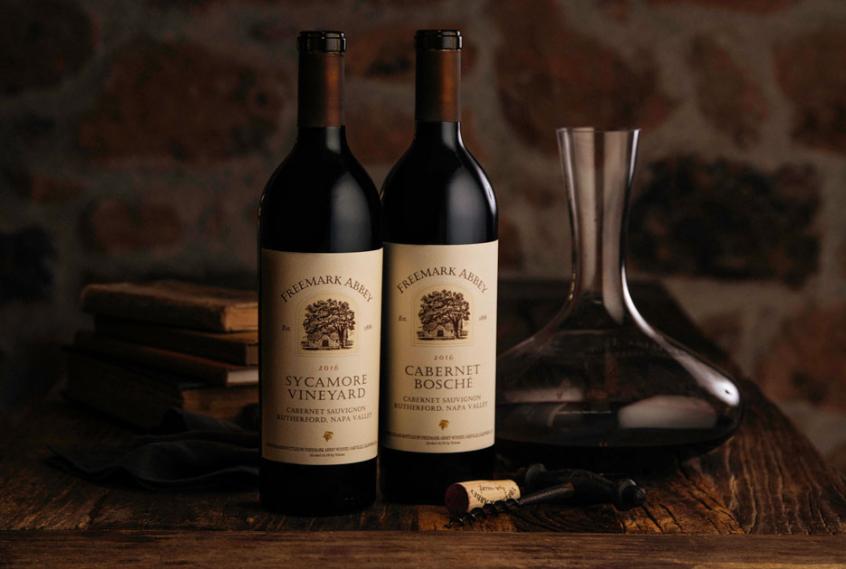 Another way in which Freemark Abbey's history with Sycamore Vineyard plays out on a timeline is through the arrival of Ted's successor, Kristy Melton, who was promoted to the position of Head Winemaker at the very beginning of this year. The Texas native and Napa Valley veteran started working for the winery in the summer of 2019. Along with trading and sharing ideas with Ted as a fellow vintner, she learned some of the viticultural ropes from him through visits to Sycamore, Bosché, and the other vineyards he's worked with for decades. And in a nice coincidence, Kristy was born in 1980—the year Ted was hired at Freemark Abbey.
Touring Sycamore with her mentor and tasting through the wines have helped Kristy develop her own impressions of Freemark's style.
"It's a really complex wine in that it's got great dark fruit characteristics," she said over the phone before the beginning of the 2020 harvest.
With both Rutherford properties on her mind, it was natural to draw some comparisons. "Juxtaposed against Bosché's more red fruit character, Sycamore's got tons of layers. Of the two vineyards, it's more tannic. It has more herbs and spices and wet gravel and mineraliness to it that I think is really indicative of the site. I mean, you go there, and you see how close it is to the mountain. You smell all the trees and vegetation around it. And I feel like you can pick that up in the wines."
She noted that the topography of each vineyard site is somewhat different, with Bosché planted on a flatter piece of property that is a bit farther away from the mountains, "so it's a little more of that fruit-driven, bright, pretty kind of wine."
Then she made her own, unique observation: "Sycamore is like jazz music," she mused. "It's got all those layers. It's got all that complexity."
A Gem Amongst Remarkable Rutherford Vineyards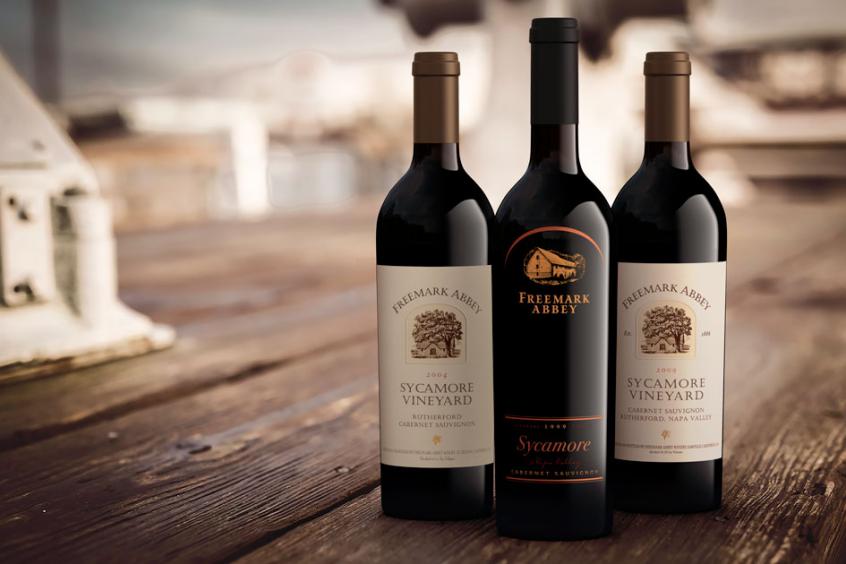 A few hundred miles to the north, the Seattle-based Master Sommelier and friend to Freemark Abbey, Thomas Price, is always happy to share his informed impressions of Ted's and, now increasingly, Kristy's wines.
Earlier this year, before coronavirus shut down his travel, he tasted the 2016 Sycamore Vineyard Cabernet in a group setting and found it as compelling as the many other vintages he's tried over the years. It reinforced for him that, in his words, "Rutherford is so nuanced. It's really remarkable."
As a sommelier and educator, Thomas is often called upon to make comparisons between countries, regions, and viticultural districts, some as small as the sub-AVAs of Napa Valley. When it comes to discussing Rutherford vineyards—Sycamore in particular—it's a task he enjoys.
"Rutherford has so many individual sites," he said over the phone. "If we were playing Lightning Round and you said 'Rutherford' to me, I would say, 'nuanced,' because you've got Georges de la Tour Cabernet from Beaulieu Vineyard, you've got the Bosché and Sycamore Cabernets from Freemark, you've got Staglin Family, among many others. There are all these wines that stylistically are pretty different, even though they're vinified the same way, for the most part. You know there might be a few more years of oak on one or the other, but they're vinified essentially the same way. And from plot to plot and vineyard to vineyard, you just get really different expressions."
Then, falling back on his highly trained palate to describe the '16 Sycamore, he added, "Yes, I think the Rutherford dust is real. There's a little bit of a chalky grip to the tannins that I perceive when I taste this Rutherford Cabernet."
When he noted the patchwork nature of Rutherford vineyard sites, Thomas echoed Ted's observation that the appellation is a mosaic, with Sycamore Vineyard one of its most important pieces. 
As Kristy has figured out, it's a slice of Napa Valley unlike any other and, at the same time, intrinsic to Freemark Abbey's history over the last four decades. "This vineyard was founded by John Bryan, a man sort of on his own," she said. "It's always been the heart and soul of what we're doing because it's so intimately tied to the winemaking of Freemark."