Kristy Melton's Chardonnay Debut
Mother Nature's unpredictability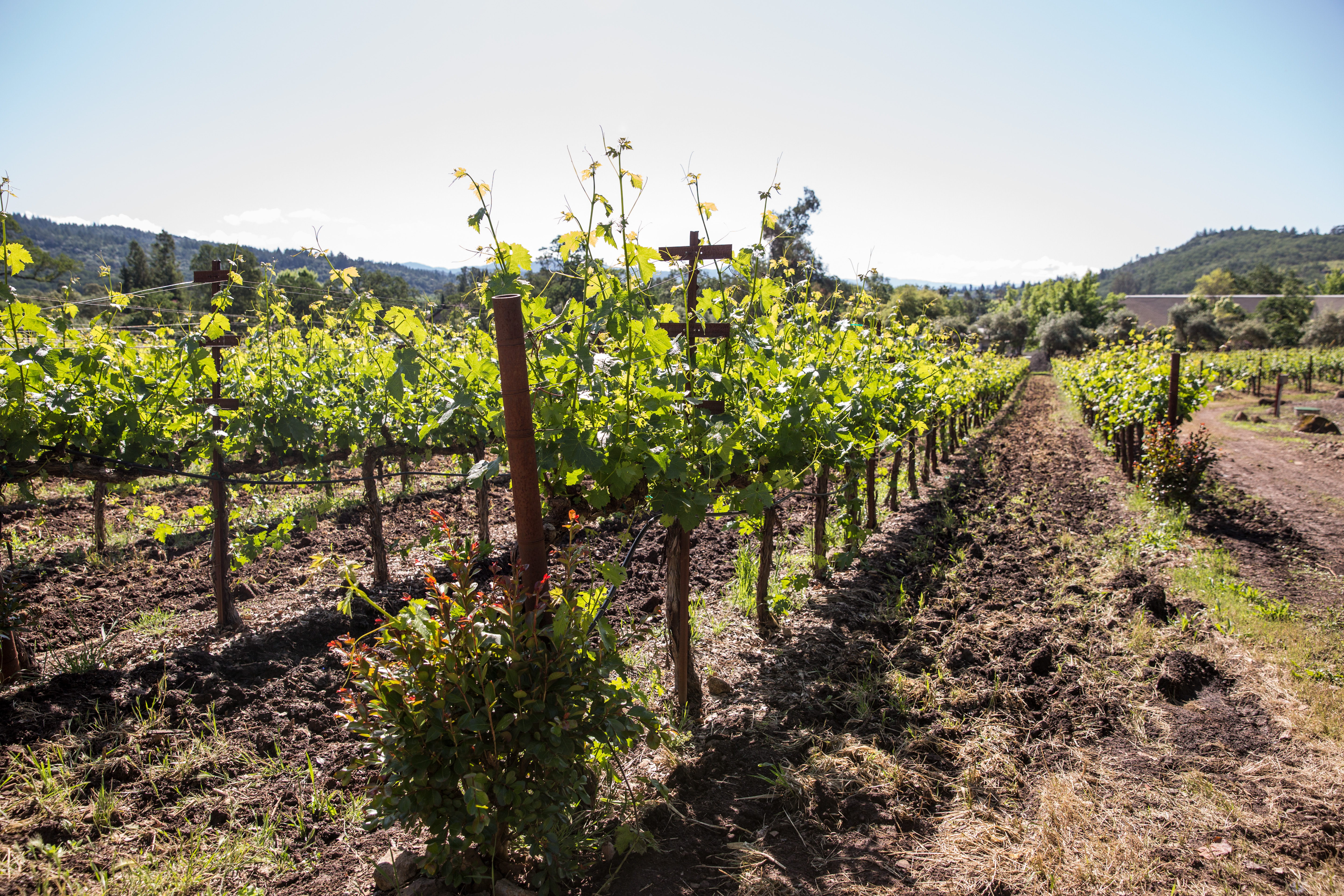 Mother Nature can be pretty fickle from year to year. Probably no one knows it better than people who farm for a living. In Napa Valley, of course, this means grape growers.
Equally familiar with vagaries in the weather are the winemakers they collaborate with during the growing season and, particularly, in the days and weeks leading up to, and through, harvest.
But whatever curveballs the weather in Napa Valley—or any viticultural region, for that matter—throws at growers and winemakers, once the rush of harvest and vinification is complete, the steadier rhythms of barrel aging and blending take over. Year in and year out, this more or less sums up the process at a winery.
Then 2020 arrived, and Kristy Melton got to make Chardonnay in her kitchen with her cats. But more on this later.
Passing the torch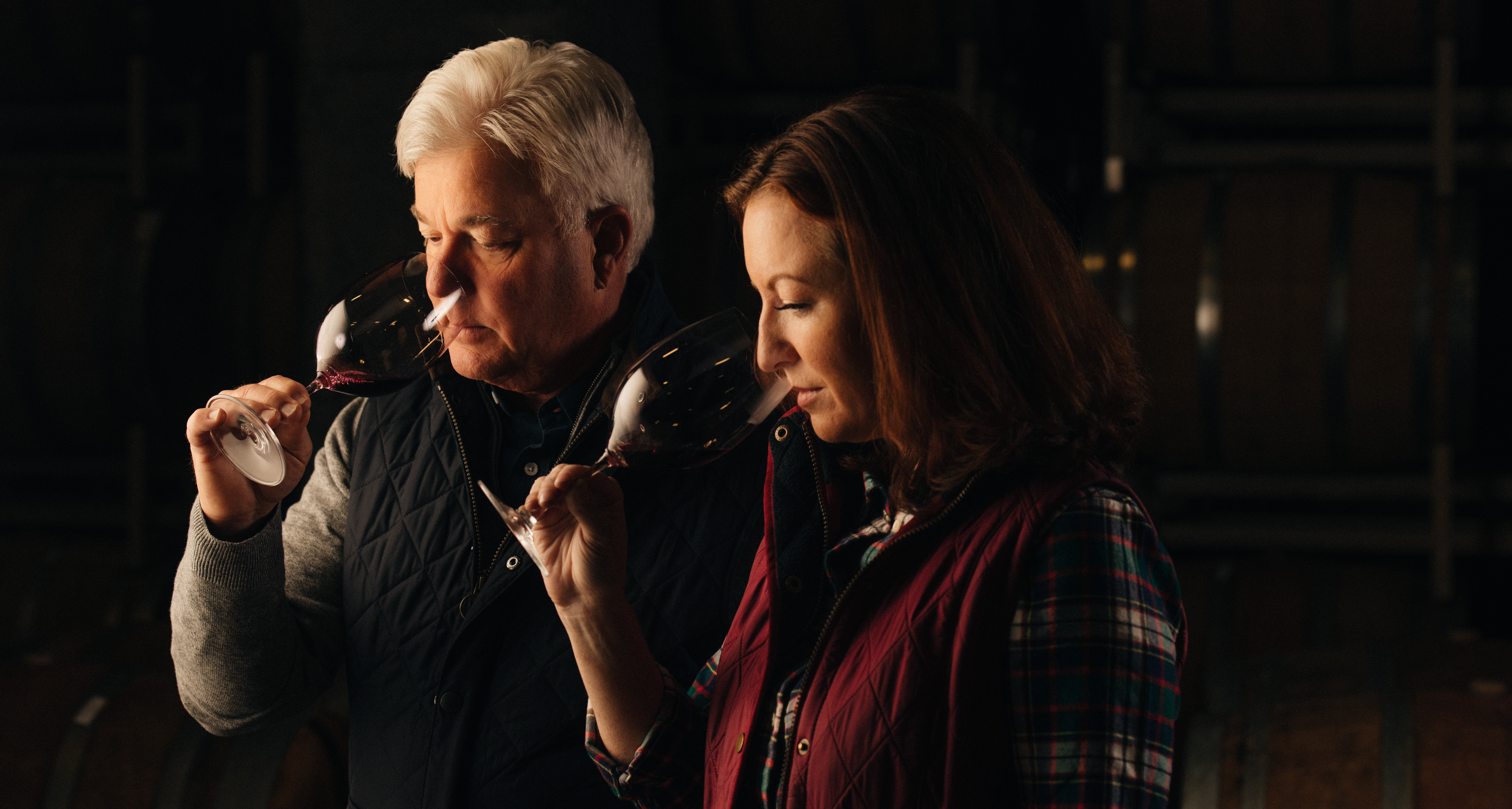 Freemark Abbey's Head Winemaker, who officially started her job in August of 2019, had already begun working with her predecessor a year earlier. At the cusp of the 2018 harvest, now-Emeritus Winemaker Ted Edwards eased Kristy into his program at Freemark by handing her the reins to the winery's decades-old Napa Valley Chardonnay production.
Between the two vintners, there was an embrace of change built into the yearlong transition. Kristy discussed this in a recent conversation about the older and newer versions of Freemark's most popular white wine.
Ted is well-known for his longtime preference for producing a crisp, non-malolactic fermentation style of Chardonnay. The new head winemaker explained that, for many years, Ted's Chardonnay came from vineyards in Rutherford, a section of the valley famous for Cabernets like Freemark's Bosché and Sycamore Vineyard bottlings but where "white grapes are grown in a warmer climate, so they come in with less acidity at harvest."
"The machines had less of the technology than they do now for gentle pressing and cooling," she said, "and so Ted found the non-malolactic style preserved what natural acidity was in the fruit, and it really worked well."
She added that, with the sourcing of Chardonnay lately moving away from Rutherford in favor of cooler regions like Los Carneros and Howell Mountain, where Chardonnay naturally develops higher acidity as it grows, it became necessary to incorporate malolactic fermentation, or "ML," in the winemaking. And here Kristy's own experience came into play.
"For Ted and me, it was a collaboration. He had only ever made that one style of chardonnay. He'd never made a chardonnay with ML. So he was very open to me taking over to do that. He said, 'You know, I'd love to see what you can do with Chardonnay, and particularly the Carneros sourcing,' because that was something I was really familiar with from Clos du Val."
Before coming over to Freemark Abbey, Kristy worked as head winemaker at this respected Stags Leap property. Carneros Chardonnay has always been one of Clos du Val's signature wines.
Earlier jobs at Ironhorse Vineyards in the cool Green Valley AVA of west Sonoma County and Seresin Estate in New Zealand's famous Marlborough region had given her what she described as "a broader experience, in terms of location and style," working with malolactic-fermented Chardonnay.
shifting styles for the napa valley Chardonnay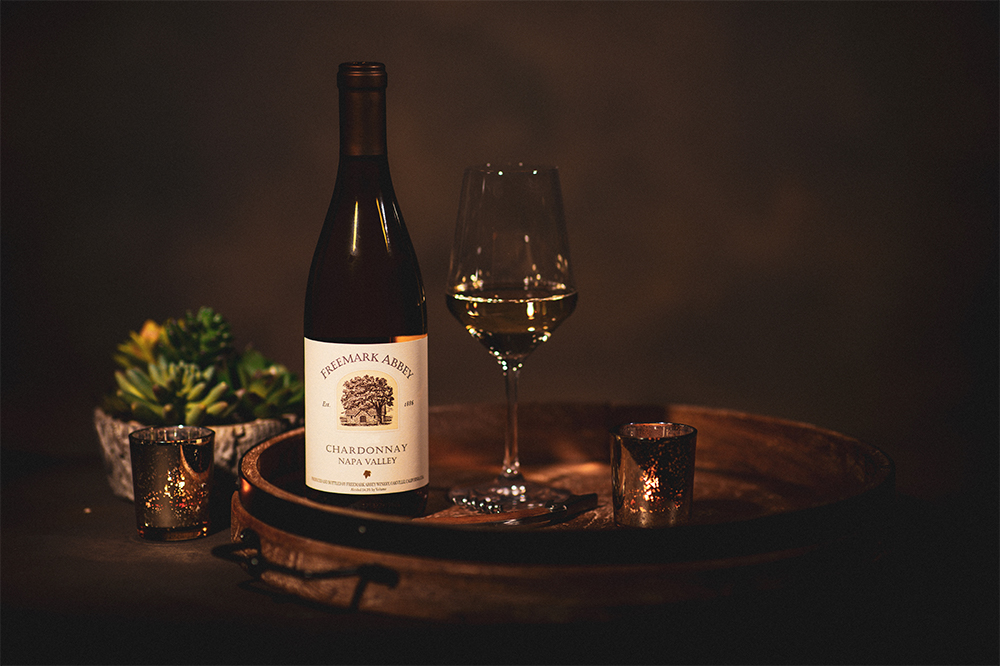 Diving into the '18 Freemark Abbey Chardonnay, she said, "Ted thought it would be really great if that were my first project in terms of winemaking at Freemark, especially when we both agreed to shift the style a bit" while staying true to the winery's mission of making balanced wines. "So, it wasn't like I was coming in trying to change everything we had done. It was trying to add from my skill set to what Ted had already accomplished."
Through his own unique take on Napa Valley Chardonnay¸ those accomplishments go back to 1985 and his first days as head winemaker. Before then, previous Freemark Abbey winemakers' efforts helped land the '72 "Pinot Chardonnay" in Steven Spurrier's 1976 Judgment of Paris tasting.
Of the vintage that came a full 45 years later, Kristy recalled from a recent tasting that the 2017 Freemark Napa Chardonnay—the last before she arrived—was a nice bookend bottling for Ted. To her, this vintage was classically fruit-driven and "linear," the result of less barrel fermentation and less use of new oak for aging, along with zero ML. "You know, in keeping with Ted's style, that vintage was more about preserving fruit."
As counterpoints, she shared that her first two vintages, '18 and '19, "have a lot of layers of like crème brûlée and vanilla while still being bright and fruity. You still get the same elements of fruit in the wines, and you get the same sense of place," but with the addition of ML.
As a relatively large-production wine, the Napa Valley Chardonnay has always been created with a broad range of Freemark enthusiasts in mind. To capture the even more specific "sense of place" Kristy mentioned, the winery produces a pair of limited Chardonnay bottlings from the Carneros and Howell Mountain AVAs. Each wine is sourced from a single vineyard and offered mainly to wine club members and tasting room visitors.
Though they're made in smaller quantities, these two Chardonnays connect to the Napa Valley production in direct ways: the Keyes Vineyard, just outside the town of Angwin on Howell Mountain, is one of the Napa bottling's source vineyards; and Ahmann Vineyard, near Huichica Creek in Carneros, contributes the bright acidity and citrus-apple notes also found in the winery's Carneros AVA Chardonnay.
A third vineyard rounds out the Napa Valley bottling: Rancho Sarco is in the Coombsville AVA, which borders the city of Napa to its east. The property's gravelly, clay-loam soil adds bright, complex flavors of apple, peach, and pineapple to the blend.
Kristy's first time working with these three vineyards was that late summer of 2018, when she came on board with Ted to get introduced to his winemaking style. Together, they created a new version of Freemark Abbey Chardonnay, but it was really her project.
It was an auspicious beginning for her: the current release 2018 Chardonnay is a fantastic example of what a winemaker can do with different lots of Napa Valley fruit. For her own tasting notes on the back label, she wrote, "This wine was crafted to represent a classic, opulent style of Napa Valley Chardonnay." What she could've added, but didn't because she's far too modest, was, "… and give it a few hours to breathe, and it will blow your mind with its complexity."
From Kristy's kitchen table to yours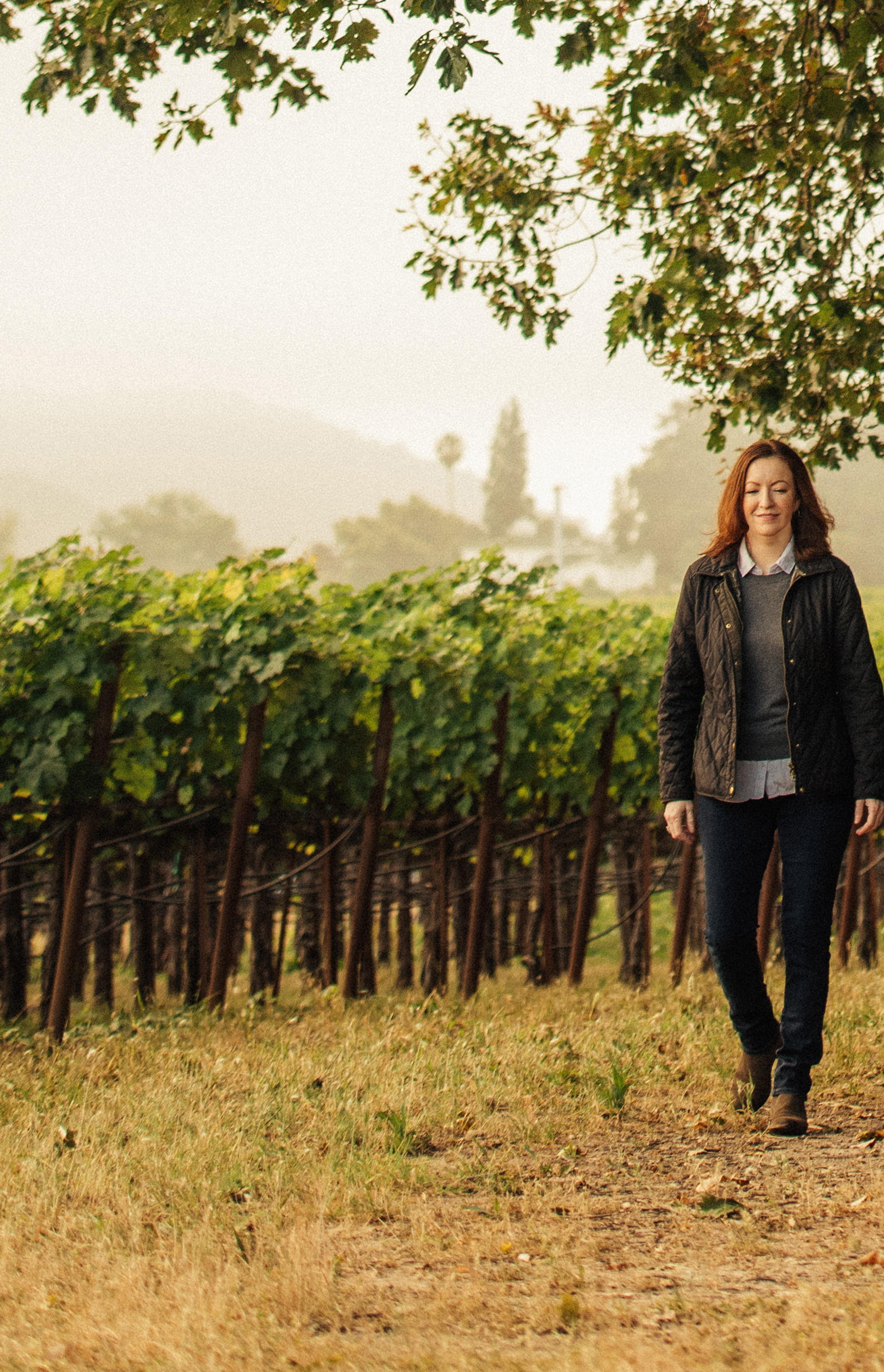 At the start of the 2019 harvest, the lessons of '18 proved useful.
"I took what we learned from that vintage and just went forward with the things we loved for '19. So, start to finish it was made with the intention of this style," she said. "Knowing what we liked, knowing which barrels and what yeast strains we liked, we went forward that way. 2019 was a great vintage for us for making that Chardonnay. It was really straightforward. The ferments went like clockwork, and we were really, really pleased."
If Kristy's cats could talk, "Famous last words" is what Munchie and Kittenface would have told her back in March.
After the onset of the pandemic and the Napa County-wide stay-at-home orders, the winemaker had to make some adjustments to her work schedule. These included converting her kitchen table—as many people did and continue to do—into an office. But coronavirus notwithstanding, the blending of the '19 Chardonnay still had to proceed.
Kristy painted a colorful picture of this time.
"I had all of the bottles, and I tasted every lot and looked at the volumes, and I picked my favorite few. Then I started working with different percentages of those. So it was just me, five glasses, a graduated cylinder, and my computer taking notes." And her cats. This is documented on Kristy's Instagram feed, by the way.
"That was the first wine I blended all by myself," the winemaker noted with pride—and a laugh. "My cats with me in the kitchen was a unique way of doing it. Normally I'd sit at a table with Ted and our facility winemaker and the enologist and everybody else, and kind of get everybody's input on the wines. And that's how Freemark wines have been made for such a long time. But with Covid I said, 'Well, I've got to try this by myself.' And I got to a point where I really liked the wine. Eventually, I texted Ted and took a sample bottle over to his house. I left it on his porch."
Confirming this in an email, Ted wrote cheerfully that when Kristy dropped off the sample of her proposed Napa Chardonnay blend, "it definitely made my day. Imagine the scene: I'm home safely working in my office because of Covid guidelines, and Kristy drops off a bottle of her blend for me to try. It was like a letter from the winery! It was fantastic, very fruit-forward with tons of depth and flavor. It had such a great balance."
He added, "I gave a sample to my wife, Jennifer, and she loved it. We finished the bottle discussing its virtues. What a great break from the Covid doldrums!"
Kristy was thrilled, and she finished the call bragging about Ted's text message the following day.
"He and his wife had drunk the whole thing!" she laughed again. "He sent me back tasting notes, and he said, 'We love it, just do it!' And I said, 'OK!''
"It was a great reassurance for what I was going for, but just a very different way of getting there."
Under these unlikely circumstances, Kristy realized she had arrived at Freemark Abbey.